Dowell Loggains was disappointed with last Sunday's narrow loss to the Lions, but the Bears offensive coordinator was ecstatic with the strides made by rookie quarterback Mitchell Trubisky.
After throwing his only two interceptions of the season on two-minute drives late in losses to the Vikings and Saints, Trubisky put the Bears in position to tie Sunday's game in the final seconds. He led the offense from its own 17 to the Detroit 28 in just 1:23, setting up a 46-yard field-goal attempt that Connor Barth pushed wide to the right.
"He successfully got us in position to succeed," Loggains said. "For him to take us down and get us into field-goal range was a big step in his growth."
Trubisky picked up first downs with passes of nine yards to Tre McBride III and 10 yards to Daniel Brown. Then on the final two plays of the drive, the second pick in the draft scrambled for 19 yards on fourth-and-13 and followed with a 15-yard completion to Dontrelle Inman.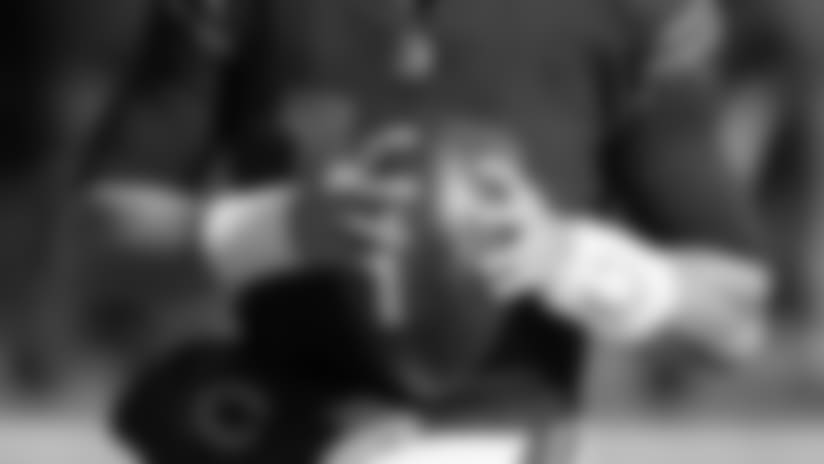 Bears quarterback Mitchell Trubisky looks for a receiver during last Sunday's loss to the Detroit Lions.


Loggains described Trubisky's wild backyard scramble as "incredible."
"I was on the sideline saying, 'No, you can't do that, Mitchell, you can't do it, Mitchell,' and all of a sudden it was, 'Wow, Mitchell,'" Loggains said. "That's a heck of a football play.
"The last throw to get us down to the 28, to get to No. 3 in your progression and sit in the pocket the way he did, it was an absolute dime that he hit Inman on. Dontrelle did a great job coming back to the ball on a negative angle. It was a really good football play. It was unfortunate we couldn't finish the game because I thought Mitchell deserved that one."
Trubisky's coaches and teammates have praised the young quarterbacks for maintaining a calm demeanor even in the most pressure-filled situations.
"I would say it's pretty natural," Trubisky said. "I love those moments. That's where you have kind of seen over time where the great quarterbacks have come from, just to be clutch, deliver in those moments. It makes that game that much more fun. You definitely want to deliver for your team, but it's all about staying cool, calm, collected, making sure everyone's on the same page and going down and do your job. It's my job to stay calm in those situations. Hopefully my teammates will feed off my body demeanor so nobody's in a panic and everybody can just go down and do their job."
Trubisky completed 18 of 30 passes for 179 yards with one touchdown and an 88.1 passer rating against the Lions. He also was sacked only once after being sacked five times a week earlier in a loss to the Packers.
"I think we all saw the step with starting to eliminate some of the sacks and those things," Loggains said. "As the development process continues and he plays more, there will be ups and downs in those things. It's one of those things we'll continue to work on."
Trubisky also rushed for 53 yards on six carries versus Detroit, with several of the runs coming on read-option plays. Asked about balancing the risk of Trubisky incurring an injury with the reward of a big gain, Loggains said: "It's a fine line, and that's why we don't do it every week.
"It is something that creates problems for the defense. But you've also got to work really hard to make sure that you don't put your quarterback in a tough spot. And he's got to be smart and take care of himself, which I thought he did a really good job getting down. That's the most important thing is to protect yourself, understanding what we're trying to accomplish. It's just a different wrinkle to affect the defensive end or slow down a pass rush like a screen or a draw."
Loggains enjoys working with Trubisky because the young quarterback is driven to succeed and is his own worst critic.
"It's weird as a coach because I want to come crashing on him on some of those plays, when certain things come up, but you can't because he's so hard on himself," Loggains said.
"It's a nice problem to have as a coach because we know how hard he is on himself, so we can say, 'Hey, this is what we need to focus on, this is where you need to get better, you need to make improve on,' but also remind him how much growth he is making. And he won't talk this way, but he knows that he's gotten better every week.
"He shouldn't give himself a pass. He should hold himself to a very high standard because we do. But we all know the reality of the situation. He has played 18 games since high school. Every day to this point that he's taken the field, he's played better. That's what we keep telling him: 'Keep stacking good games. We're going to keep playing better around you. We'll keep putting you in good situations, and the wins are going to come."