Voted to the Pro Bowl as a rookie last year with the Bears, right guard Kyle Long is performing at an even higher level in his second NFL season.
"He's matured as a player," said offensive coordinator Aaron Kromer. "He's seeing the game better, understanding what defenses are doing and slowing the game down for himself, and that's the biggest difference.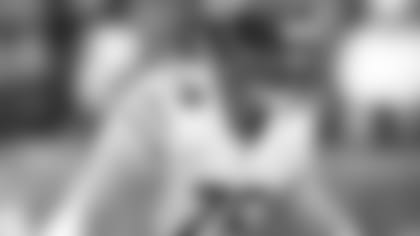 Right guard Kyle Long was selected by the Bears with the 20th pick in the 2013 NFL Draft.
"Like any young player, the game seems fast and you try to play faster than you need to play and you get yourself out of position. When he does play with the correct tempo—and that's what he has done more often this year—it helps our offense."
Kromer revealed that Long had the best game of all the Bears' offensive linemen last Thursday in Detroit, and that's no small feat given that he was frequently matched up against Lions defensive tackle Ndamukong Suh. The Bears ran 59 plays in the game and Suh was not credited with a tackle or a sack.
"He had one of his best games when he was up against Suh," said coach Marc Trestman. "He really played well against him last week, and stood up to that kind of pressure. We have a lot of confidence in Kyle and certainly the way he's playing."
Kromer and offensive line coach Pat Meyer have helped Long hone his skills and become more consistent as a second-year pro.
"He's fun to watch," said quarterback Jay Cutler. "When he got here, he was just a really raw talent. You could see that he was going to develop into a great player. I think he's done a great job of listening to 'Krom' and Pat and really taken the techniques to heart and learning how to be an offensive lineman in their system, and now his guy doesn't get through. He's pretty much locked down over there."
Line changes: Long is the Bears' only offensive lineman who has started all 12 games this season. Injuries have forced the team to employ seven different starting combinations after opening all 16 games with the same five players a year ago.
Asked whether the constant change up front has affected him, Cutler said: "It has, but it hasn't. Those guys have done a really great job. You put seven different combinations out there and things are going to happen; it's only natural. I think overall those guys have done a great job of putting together week-in and week-out a group that's going to compete."
Man in the middle: The Bears will face a Cowboys defense Thursday night that's led by middle linebacker Rolando McClain, who has resurrected his career this season after retiring in May 2013.  
"He's an excellent player," Trestman said. "He's a relentless player. He's got length. He's got size. He's 255 pounds. He plays with a sense of urgency. We've seen a lot of good things from him. He really has been a great acquisition for the football team."
McClain played his first three seasons with the Raiders after being selected by Oakland with the eighth overall pick in the 2010 draft. He retired after multiple brushes with the law, but came out of retirement after being traded from the Ravens to the Cowboys in July.
"He's done a great job for them," said running back Kyle Long. "We need to know where he's at, especially if he's blitzing, in pass protection and also in the run game. He's good against the run. He's good at slipping blocks and reading plays as well."
This and that: The Bears are attempting to beat the Cowboys in a prime-time game for the third straight season, having won 34-18 in Dallas in 2012 and 45-28 in Chicago in 2013. … Five Bears are former Cowboys: Defensive tackle Jeremiah Ratliff, tight end Martellus Bennett, tight end Dante Rosario, safety Danny McCray and cornerback Terrance Mitchell. … At 5-0, the Cowboys are the NFL's only undefeated team on the road this season.