The only Bears offensive lineman to be voted to the Pro Bowl in each of his first three NFL seasons returned to the practice field Wednesday on a limited basis.
Right guard Kyle Long had been sidelined since hurting his calf late in the first training camp practice last Thursday. Asked about the importance of getting the 6-6, 320-pounder ready to play in the Bears' preseason opener Aug. 11 against the Broncos, coach John Fox had another goal in mind.
"It's important to get him ready for the first game of the regular season in Houston, so we'll monitor that and try and be as cautious as possible, like we do with all the players," Fox said. "But, you know, he had a good first day back."
Long revealed that he sustained the injury "trying to chase [speedy outside linebacker] Danny Trevathan for like the dozenth time at a practice."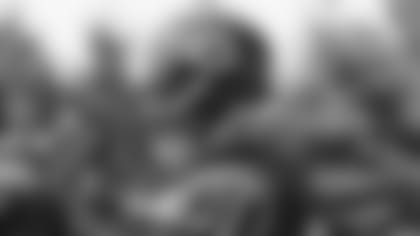 Kyle Long returned to practice on a limited basis Wednesday.


"It was just a combination of first-day stuff," Long said. "Everybody's fired up. Your body's fired up and you're out there working hard. I have to be more careful warming up and getting myself ready. I have to be ready as a professional."
It's a bit of an understatement to say that Long has not enjoyed watching from the sideline.
"It gets boring," he said. "I'm here to play football and when I'm not playing football, I feel like I'm doing something wrong and I feel kind of guilty about it. But you have to be careful getting back into it and do what the trainers want me to do."
Since being selected by the Bears with the 20th pick in the first round of the 2013 draft out of Oregon, Long has started 47 of 48 games over three seasons, missing only one contest in 2014 due to a hip injury. He's back at right guard this year, the position he played his first two seasons before moving to right tackle in 2015.
Long has become a much more polished player than he was in 2013 when he arrived in Bourbonnais for his first NFL training camp after making just five career starts at the Division I college level.
"It's like a big caveman came in and we kind of just pointed him in a direction and he went and ran," recalled quarterback Jay Cutler. "Now he knows football. He knows where the ball's going at least and who to block.
"We're happy to get him back out there. You get a big three technique and [Long] kind of neutralizes guys. I think the plan is to ease him in there and get him back to full speed."
Cutler took a special interest in helping Long develop when the offensive lineman was a rookie.
"You just saw the talent," Cutler said. "You saw the raw talent. He just needed a little bit of direction, and he was open and willing to [accept] it. I think that's probably the biggest thing. You get a guy that wants the extra work, wants to be great, just needs a little bit of fine-tuning and direction, that's all he needed."
Fox and his staff have only worked with Long since last April. But they, too, have seen him make big strides.
"I've seen tremendous growth in Kyle," Fox said. "He's a young talented player that's learning to become a better pro every day. I've seen that. I'd like to have a whole bunch of [Kyle Longs]."
Offensive coordinator Dowell Loggains described Long as "a smart, tough guy who loves football," saying: "It doesn't have to be the most important thing in your life, but it needs to be in the top three and it definitely is with him."