After spending the last several months focused on the Combine, his Pro Day and interviewing with prospective NFL employers, Kyle Long was thrilled to practice for the first time as a professional Friday.
"All the hoopla's aside; it's football now," the Bears' first-round draft pick said after the team kicked off its rookie minicamp with a two-hour practice inside the Walter Payton Center. "It was awesome. It's good to get to know all the guys. It's a great experience."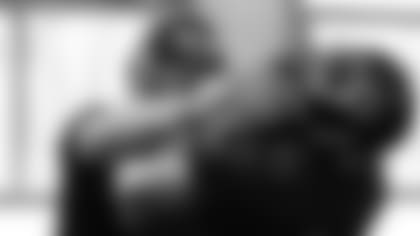 Kyle Long (left) works on his blocking skills during a drill Friday at rookie minicamp.
Long, a guard from Oregon, is one of 59 prospects taking part in the minicamp, which continues with workouts Saturday and Sunday. There are six draft picks, 10 undrafted free agents, 10 players with limited NFL experience and 33 others practicing on a tryout basis.

"It's highly competitive," Long said. "We're all out here trying to compete. It's a competitive atmosphere, which is what we all thrive in. We love to be here. It's a blessing to be here."

After starting the final five games at left guard last season at Oregon, Long lined up at right guard in Friday's practice. But the 6-6, 313-pounder denied the switch required a major adjustment.

"My hand's still on the ground and I'm supposed to block somebody," Long said. "It's just a different side."

Asked what he hopes to accomplish this weekend, Long said: "Just continue to try to earn the respect of teammates and coaches, try to solidify my knowledge of this offense, and get more and more reps."

Every rep Long takes this weekend is crucial, especially because he will miss the rest of the Bears' offseason program due to an NFL rule that prevents rookies from participating in workouts until their college class graduates.

"Yeah, it's frustrating," Long told a group of Chicago reporters. "But due to the quarter system [at Oregon], like a lot of Pac-12 guys, I'm going to have to wait.

"I'm behind the eight-ball a little bit because I won't be able to be here with the team. But I have somebody in place and I'll have the installations ahead of time. It's kind of like if you're missing a week of school and you're sick you want to get the lesson plan from your teacher ahead of time. That's kind of how I'm treating this."

Long will continue working with former NFL offensive line coach Tony Wise as he did to prepare for the Senior Bowl while also remaining in constant contact with the Bears.

"Anytime you've got to deal with a certain issue, you've got to embrace it and I think we will as a staff and Kyle will," said coach Marc Trestman. "We've got a lot of different ways of communicating with him. There are webinars out there. We can show tape to him and sit in a meeting with him and watch tape with him right on a computer. We've got all the technology to do that."

Trestman isn't worried about Long falling too far behind before training camp.

"Kyle's a very smart guy," Trestman said. "We know he's going to dig in and do everything he can to get himself ready, not just physically but mentally as we get to our veteran minicamp and into training camp.

"I think it's a minimal obstacle and nothing that we can't handle. The opportunity to embrace it and get it done is something that we're up to or we wouldn't have made the pick."