The Bears locked up one of their cornerstone players Wednesday, signing offensive lineman Kyle Long to a four-year contract extension that runs through 2021.
Selected by the Bears with the 20th pick in the 2013 draft out of Oregon, Long has become the first offensive lineman in franchise history to be voted to the Pro Bowl in each of his first three seasons. The team's last player to accomplish that feat was middle linebacker Brian Urlacher.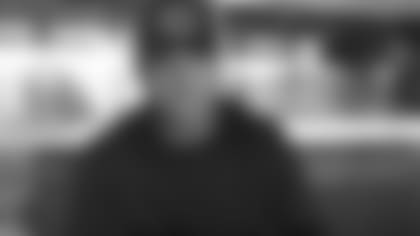 Offensive lineman Kyle Long signing a four-year contract extension through 2021.


"Kyle is extremely talented, a great teammate and more than deserving of this contract," said general manager Ryan Pace. "He is a big piece of the foundation we are building and we only expect him to continue to get better. We are excited to announce this long-term commitment to Kyle."
Long still had two years left on his rookie contract, but he felt the time was right for a new deal.
"It's important to understand how these things work and the longer you wait the uglier these things get," Long said. "I've known since Day 1 that I wanted to be a Chicago Bear for life and get an opportunity to play for the best franchise in football in the best city in America.
"I can rest easy tonight and for all the nights in my NFL career knowing I'll be a Chicago Bear. I'm extremely grateful for the opportunity and excited to continue to try to progress as a Bear and as a football player and a teammate."
Long has returned to right guard this season, the position he played his first two years with the Bears, after being moved to right tackle in 2015. He has started 47 of 48 games in three seasons, missing only one contest in 2014 due to a hip injury.
"He's an important part of the foundation we're building here for the future," said coach John Fox. "He's been a Pro Bowler. He brings the right mindset every day to work. He's a leader in that locker room, obviously an important cog of hopefully what we'll be about moving forward."
Long entered the NFL after making just five starts at the Division I college level. He spent two seasons at Saddleback College in California before transferring to Oregon. Prior to that, he went to Florida State on a baseball scholarship but never played in a game before leaving the school due to poor grades and other off-the-field issues.
Long's path to becoming an NFL star has been an unorthodox one to say the least. After signing his extension Wednesday, the 6-6, 320-pounder thanked numerous people for helping him make the successful journey, beginning with his parents, Howie and Diane Long.
"I want to thank them for always telling me to work as hard as I can whatever I do and make sure that I'm having fun doing it," Long said. "If I'm not having fun, then don't do it. And that's what I've found here in football. I found something that I can improve every day on, help those around me and have that eight-year-old mentality where you're flying around at recess the whole time with your buddies. That's what it's about."
Long also thanked his two brothers as well as current and former teammates, coaches and members of the Bears personnel department, including Pace and his predecessor Phil Emery, who drafted Long.
Asked how he will reward himself after signing his extension, Long said: "The first thing I'm going to do is go play some football because that's what I've been waiting to do the past few weeks.
"It's been fun being out there at practice. It's fun to get out there and hit some people. So we'll see how this thing goes. It's a long season. We're really excited to get after it. This is one less thing that I have to worry about, not that I was really losing sleep over it. But I will say this: It's nice to have to done and I can go play football now."
Long has enjoyed playing football since arriving in Chicago in April 2013.
"When I got 'surprise' drafted in the first round, I just remember my jaw dropped and my brother and my dad looked at me and said, 'You have no idea what you're getting into right now because Chicago is such a great sports town.'
"It's one of the crown jewel franchises in the NFL. There are only a handful of them and I got a chance to be a Chicago Bear. It seems like yesterday I was in here giving my draft interview and now I'm talking about being here for another four or five years. It's real exciting. The fans' support has been unparalleled and it's been a really great experience for me."