Bears coach Marc Trestman is pleased with how rookie linemen Kyle Long and Jordan Mills performed with the starting offense this week in practice. But their first real test comes in Thursday night's preseason game against the Chargers.
"They are going to get significant work again and they'll have the opportunity to play some against San Diego's 'ones,'" Trestman said. "We're excited about what they have done. We see it every day against some of the best defensive linemen in the league. We're excited to see how that transitions over to Soldier Field on Thursday night."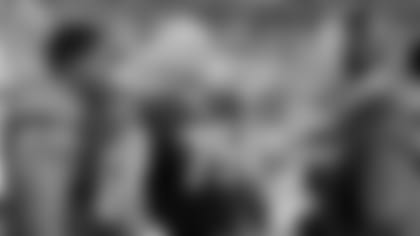 Rookie linemen Jordan Mills and Kyle Long talk to offensive coordinator Aaron Kromer.
The two rookie draft picks joined the starting offense in last Monday's practice, with Long inserted at right guard and Mills replacing four-year veteran J'Marcus Webb at right tackle. Webb practiced at left tackle with the second team opposite veteran Eben Britton at right tackle.
"As we said all along, we're going to continue to move the guys around up front and find the five guys who most gel together and most fit together," said offensive coordinator Aaron Kromer. "This week we put Jordan Mills at right tackle and Kyle Long at right guard and we're looking at that combination.
"So it's giving an opportunity for other guys to move other positions as well with the 'twos' still getting reps, going up against different guys. I think it's a good situation for everybody."
Kromer has been impressed with how Long and Mills have performed with the starting unit.
"There's been a lot of production out of that side, and the whole offensive line this week in pass protection and in our run game," said Kromer, who doubles as the Bears' offensive line coach. "We're going in the right direction, [but] we still have a long way to go."
Long traveled a unique road to the NFL. The 6-6, 313-pounder was selected by the White Sox in the 2008 Major League Baseball draft out of high school, but opted to pitch at Florida State.
Long switched to football two years later, enrolling at Saddleback Community College in California, where he played defensive end in 2010 before moving to the offensive line in 2011. In his only season at Oregon last year, he appeared in 11 games with five starts at left guard.
Mills was a four-year contributor at Louisiana Tech. After playing in seven games with five starts at left guard as a freshman in 2009, he moved to right tackle in 2010. He started all 13 games in 2011 and all 12 contests in 2012, earning All-WAC first-team honors as a senior.
Mills attended Assumption High School in Napoleonville, La., and Louisiana Tech, following the same path as his cousin, Tramon Williams, a starting cornerback with the Green Bay Packers.
"I think there's a lot of natural ability in both guys," Kromer said. "They're rookies; they have a lot to learn. It's going to take some time, but the only way they can learn is by doing it. So they need to continue to get reps. Last week they both got 51 reps in the game-which is the most on the offensive line-and this week we'll get a lot of reps for them again."
Veteran quarterback Jay Cutler believes in Long and Mills and isn't concerned about their inexperience.
"I've played with rookies before," Cutler said. "[Broncos left tackle] Ryan Clady was a rookie in my third year in Denver and did a great job.
"The two rookies we've got right now, I think they're pretty far along. They're really talented guys physically. We'll get them caught up mentally. They want to be in there. They want to do a good job and that's the most important thing. If you've got a guy that wants to do it, he'll figure out a way."