After missing the first week of training camp with a viral infection, right guard Kyle Long practiced for the first time Saturday night at the Bears' Family Fest workout at Soldier Field.
"It was really nice to get into pads," Long said. "It's really nice to be out there with the guys who have worked so hard all training camp. I missed out on a lot of it, so it's been good to get back."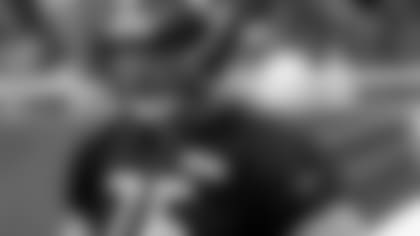 Kyle Long was in pads Saturday for the first time since last year's season finale.
As expected, Long only participated in individual drills. He hopes to do even more Monday when the Bears return to the practice field in Bourbonnais after having a day off Sunday.

"It was good to see him at practice," said coach Marc Trestman. "We'll see what [head trainer] Chris [Hanks] and what the guys say [Sunday], but things are looking up. The plan is still in place. We said he was going to do individual [drills] tonight in pads and he did, so that was a good sign. We'll see where we are on Monday."

Long's teammates were happy to have the Bears' 2013 first-round draft pick back on the field.

"It was great to see," said veteran center Roberto Garza. "He brings a lot of intensity to our group. He's a big part of our offensive line."

Michael Ola lined up at right guard in Long's place in 7-on-7 and 11-on-11 drills.

Jay Cutler and his receivers were the stars of Saturday night's practice. Cutler connected with Alshon Jeffery in the back of the end zone in a red-zone drill, a leaping Marquess Wilson deep down the left sideline, Martellus Bennett in the right corner of the end zone and Eric Weems on a deep slant for a touchdown. Weems took exception to a hit from safety Ryan Mundy on the play.

The Bears continued to rotate their safeties with Mundy, Brock Vereen, Danny McCray and Adrian Wilson all getting first-team reps.

"We're still in the process of moving people around," Trestman said. "We'll talk personnel very little this week; probably won't do it until next week. We'll keep moving them around until after the first [preseason] game [next Friday night against the Eagles] and we'll see where we are."

Veteran defensive linemen Jared Allen and Jeremiah Ratliff were given the day off and watched practice from the sideline. Cornerback Tim Jennings rested his quad. And running back Shaun Draughn was excused for personal reasons.

A crowd of about 27,000 fans attended the annual Family Fest practice, which concluded with a fireworks show.