Nearly halfway through his first season at right tackle, Kyle Long's comfort level is growing.
"I'm getting there," Long said Tuesday. "Every week I see something new. With new opponents, you learn to overcome different challenges. But I'm enjoying it. I think I'm growing not only as a football player but as a person through this process because I've been challenged. The guys are rallying around me. They expect greatness. I expect greatness and that's where we're at with that."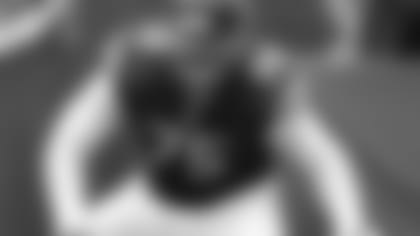 Right tackle Kyle Long was selected by the Bears with the 20th pick in the 2013 draft.
After being selected by the Bears with the 20th pick in the 2013 draft, Long was voted to the Pro Bowl at right guard in each of his first two seasons. He was moved to right tackle on Labor Day, six days before the season opener against the Packers.
In the last two games, Long has lined up next to two different right guards—Vladimir Ducasse against the Lions and Patrick Omameh versus the Vikings.
"I think it probably benefits me because I'll have to learn, relearn, teach, reteach things with different guys," Long said. "To have that understanding with multiple people, any time you get an opportunity to communicate and strengthen those bonds, things get better."
Tough break: The Bears suffered a major blow when running back Kyle Long was forced to leave last Sunday's game against the Vikings with a knee injury.
"Matt's an unbelievable guy," said outside linebacker Sam Acho. "He's a leader. He's a guy you hear about when you play in the NFL. I played with a guy like that in [receiver] Larry Fitzgerald when I was in Arizona.
"As I've got a chance to know [Forte] better, his leadership has really stood out. He's a man of character. He's a man of faith and he's just a passionate man, passionate football player. He's a great guy."
Next man up: The Bears are confident in rookie running back Jeremy Langford, who rushed for 46 yards on 12 carries after replacing Forte against the Vikings.
"Anytime injuries happen in the NFL, you always have to step up," Acho said. "You have this next-man-up mentality. We've had a lot of guys either get injured or go down or not with team anymore. We've always seen someone step up and the same thing's going to happen no matter who it is."
The Bears selected Langford in the fourth round of the draft out of Michigan State, where he rushed for 2,944 yards and 40 touchdowns on 568 carries the past two seasons. He ran for at least 100 yards in 18 games, the third most in school history, and closed his career by topping the 100-yard mark in his last 15 Big Ten games.
"Jeremy Langford isn't a guy who doesn't have a track record of running the ball well," Long said. "He's a guy who's had a lot of success in his career collegiately and I don't see why it shouldn't be able to translate to the NFL level, especially if we stick to our game plan."
Compare and contrast: Long sees two different types of runners in Forte and Langford.
"Matt is obviously one of the most exceptional backs we have in the league year-in, year-out," Long said. "He has a unique skill set, and he has a running style that is Matt Forte's running style.
"Langford's a guy who can pick and choose from different guys' repertoires. He's a guy who can run very hard downhill with surprising burst that you see on film. Once he gets through the line, he can just shoot out there. So I think from a linear standpoint, you'll see a guy who's running downhill, and I think Bears fans will like it. I know I like the guy a lot. He runs hard, and he's a tough kid."