*In the fifth of a nine-part series, ChicagoBears.com takes an in-depth look at the Bears' offensive line heading into the 2016 offseason. *
Versatility was key for the Bears offensive line in 2015, with Kyle Long moving from right guard to right tackle and left guard Matt Slauson filling in at center due to injuries.
After being voted to the Pro Bowl in each of his first two seasons at right guard, Long was switched to right tackle a week before the regular season began and ultimately made his third straight trip to the NFL's annual all-star game in Hawaii.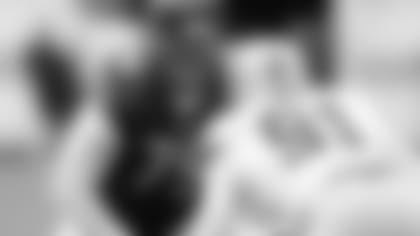 Kyle Long is the only offensive lineman in Bears history to be voted to the Pro Bowl in each of his first three NFL seasons.


"I think I made a big sacrifice in my career and I think [the Pro Bowl nod] was in kind of a roundabout way the reward for it," Long said last month after being added to the team in place of Philadelphia Eagles tackle Jason Peters.
"Unfortunately, I dealt with a lot of growing pains, as has been publicized. I've owned it and been a part of the learning process and tried to be positive every day. It's been a fun process this year, but there have been tough times. But Hawaii is going to be a lot of fun."
Selected by the Bears with the 20th pick in the 2013 draft, Long is the first Bears player to be named to the Pro Bowl in his first three NFL seasons since Brian Urlacher and the seventh Bears player overall.
"Anytime you're mentioned in the same conversation with Brian Urlacher, it's a tremendous honor and I'm very grateful," Long said.
In 2015, Long was part of a Bears offense that ranked third in franchise history in completion percentage (63.9) and interception percentage (2.3), fourth in gross passing yards (3,843) and third-down percentage (42.5), fifth in net passing yards (3,660) and sixth in passer rating (89.7) and total net yards (5,514).
Long helped protect quarterback Jay Cutler, who posted a career-high 92.3 passer rating and reduced his interceptions from 18 in 2014 to 11, while also opening holes for running back Matt Forte, who led the Bears in rushing for the eighth straight season—the longest streak since Walter Payton did so for 12 straight years from 1975-86.
Bears coaches praised Long for switching positions when he did.
"Him making that transition shows you what kind of a team guy he is for doing that," offensive coordinator Adam Gase said shortly before leaving the Bears to become head coach of the Miami Dolphins. "I've been in some situations where guys just flat-out say, 'I'm not going to do that,' because it's not in their best interests. He did it for us. He did it to help us in the situations we were in."
Slauson also showed his selflessness by moving over to center early in a game against the Raiders after veteran Will Montgomery suffered a season-ending leg injury. Slauson ping-ponged between the two positions the rest of the year, starting Games 7-9 at center, 10-15 at left guard and 16 at center.
One pleasant surprise up front was the performance of Charles Leno Jr. Jr. at left tackle. The 2014 seventh-round pick started the final 13 games of the season, supplanting veteran Jermon Bushrod, who was unable to win back his starting job after recovering from a concussion and shoulder injury.
"He had a little bit of a rough start, but he just kept working and then when he got the opportunity at left tackle, he took full advantage of it," Gase said late in the season.
"He's been so steady for us and he's been a very good leader for that group as far as being the guy that's always doing the right thing and making sure his side of the ball is taken care of. I know Jay [Cutler] feels very comfortable with him on that left side."
The Bears also remain high on center Hroniss Grasu, a third-round draft pick from Oregon who started eight games as a rookie in 2015.