Bears Pro Bowl right guard Kyle Long will miss the start of training camp due to a viral infection that is expected to sideline him through the weekend.
"He's lost a little strength because of it," general manager Phil Emery said Wednesday as the Bears opened camp at Olivet Nazarene University in Bourbonnais. "He's fighting through it. He will be re-evaluated next week as to his status. We are encouraged. He is getting better."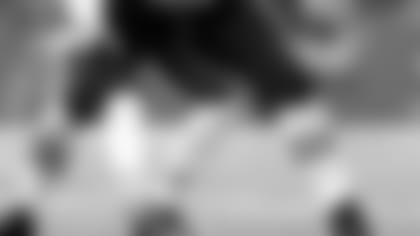 Kyle Long will miss the start of training camp due to a viral infection
Long, who came down with the ailment this past weekend, is expected to be at camp Thursday. But the 2013 first-round pick won't suit up Friday when the Bears practice for the first time.
"It's not infectious," Emery said. "Kyle is feeling better. If it was left up to Kyle, he would be out there. Obviously he loves his teammates, he loves the Chicago Bears and he loves playing football, so we're just going to be cautious. Let him get the rest he needs. The rest is very important so he can fully recover and so it doesn't come back on him."
Long started all 16 games last season as a rookie after opening only five contests at the Division I college level at Oregon. The 6-6, 311-pounder continued to hone his skills during OTAs and minicamp while working with offensive coordinator Aaron Kromer and line coach Pat Meyer.
"I thought he had an excellent offseason," said coach Marc Trestman. "He continued to engage with the other guys in the offensive line in terms of what they did in the weight room. The weight room is a big part of the offseason, becoming stronger and more explosive and doing the things necessary. He did that, which was outstanding.
"We thought he got better certainly in the understanding of our offense, protections, hand placement, taking the proper steps. He understands how important that is, where he had no clue a year ago in terms of what that is all about. Aaron has said that on many occasions and we've talked about that, so he's way ahead.
"He's got some confidence. He knows he can play this game, he knows he can play in this league and he wants to get better. He legitimately knows he can improve. Aaron and Pat have talked to him about the things that he can do to get better and he's going about his business doing that."
In other injury news, safety Chris Conte will open training camp on the physically unable to perform list (PUP) after undergoing shoulder surgery in March. Emery said that he expects Conte to begin practicing sometime after the Aug. 8 preseason opener against the Eagles.
"Depending on how well he practices and how well he responds to contact will determine how many preseason games he plays after that first one," Emery said. "But it won't be the first preseason game."
Left guard Matt Slauson (shoulder) and right tackle Jordan Mills (foot) have been cleared to practice after recovering from injuries, while safety Craig Steltz (groin) also should be able to return to action.
"[Steltz] had groin surgery over the winter and he's progressed very well and we're very hopeful that he'll be ready to go Friday," Emery said.