Guard Kyle Long on Tuesday was selected to the Pro Bowl for the second straight year.
Chosen with the 20th overall pick in the first round of the 2013 NFL Draft, Long is the first Bears player to be named to the Pro Bowl in each of his first two seasons since Devin Hester in 2006-07.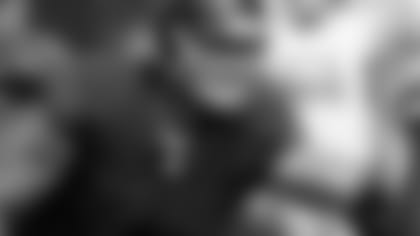 Kyle Long
Long is the first offensive lineman to claim that honor and just the 10th player in Bears history. He joins Hester, linebackers Brian Urlacher and Dick Butkus, safety Mark Carrier, running backs Gale Sayers and Rick Casares, tight end Mike Ditka, receiver Harlon Hill and defensive tackle Fred Williams.
On his Twitter account Tuesday night, Long wrote: "Speechless. So much love 4 my teammates and coaches. Couldn't ask for a better city than Chicago to play 4. Thank u so much."
Long has started 14 of the Bears' 15 games this season and has not allowed a sack. He is a part of an offense that ranks first in franchise history in completion percentage (65.1), second in passing touchdowns (30), tied for second in completions (373), third in passing yards (3,863), fourth in passing attempts (573), and sixth in passer rating (88.1).
Long has also helped pave the way for running back Kyle Long to rank third in the NFL with 1,772 yards from scrimmage.
Long was the only member of the Bears to be selected to the Pro Bowl. The last time the Bears did not have multiple Pro Bowlers was in 2008 when they were represented solely by linebacker Lance Briggs. This year marks the first time they didn't have a defensive player selected since 2004 when center Olin Kreutz was their only Pro Bowler.
For the second straight year, the Pro Bowl was not determined by conference. Gone is the familiar AFC vs. NFC match-up that existed from 1971-2012. Instead, players were selected without regard to conference in voting by fans, coaches and players.
Players will be split into two teams via a Pro Bowl draft Jan. 21. The game will be played at University of Phoenix Stadium in Arizona on Jan. 25, the Sunday before the Super Bowl.