Pro Bowl guard Kyle Long and his mother, Diane, concluded the 11th annual Chicago Bears Business Summit Thursday at Halas Hall by discussing their family's long history in the NFL.
Kyle's father, Howie, was a defensive lineman who played his entire 13-year NFL career with the Raiders from 1981-92 and was inducted into the Pro Football Hall of Fame in 2000.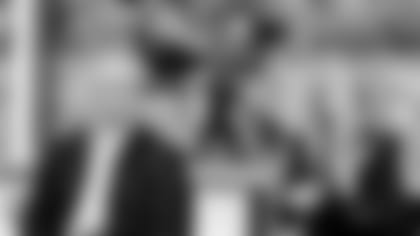 Pro Bowl guard Kyle Long and his mother, Diane, at the 11th annual Chicago Bears Business Summit.


Kyle's older brother, Chris, has played nine NFL seasons with the Rams (2008-15) and Patriots (2016), winning the Super Bowl last month with New England. The youngest of the three Long brothers, Howie Jr., works in the Raiders personnel department.
Kyle, of course, is entering his fifth year with the Bears. Selected in the first round of the 2013 draft out of Oregon, he was voted to the Pro Bowl in each of his first three seasons. He's in the process of recovering from an ankle injury that he sustained last Nov. 13 in a loss to the Buccaneers.
Twenty-five of the Bears' corporate partners attended Thursday's Business Summit, which featured a state-of-the-franchise address from team president/CEO Ted Phillips, an inside look into Bears player personnel, a Bears business update and breakout sessions.
Long and his mom spoke about the family's reaction after Kyle was drafted by the Bears.
"They're the crown jewel of the NFL," he said. "We hit the lottery when I got drafted by the Bears. I was speechless. When I got the phone call from a Chicago number, it blew my mind and my dad immediately said, 'Wow, you are so lucky.'"
Diane, who has been married to Howie for nearly 35 years, has had an inside view of the NFL since the 1980s.
"I definitely know a different angle," she said. "As a wife and a mom of NFL players, I have definitely had the right and the privilege and the responsibility of seeing behind the curtain. I've seen a lot. It's been thrilling. It's been exhilarating. It's been brutal. Some people say it's sexy, it's dazzling. It's all of those things. But at the end of the day, it's like being part of a family."