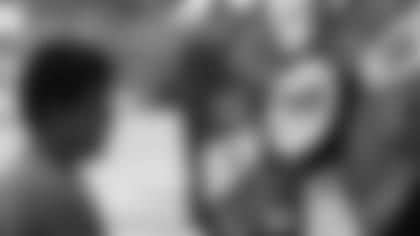 Las familias se disfrutan de la ruleta
Por segundo año consecutivo, los Chicago Bears participaron en la celebración anual del barrio Back of the Yards en Chicago. La del 2015 fue la vigésimo quinto celebración de la Fiesta Back of the Yards, uno de los festivales callejeros más grandes del área de Chicago.
Cada año, miles de familias y docenas de vendedores llenan la Calle 47 entre las Avenidas Ashland y Damen para participar en una celebración de la comunidad y su cultura. Las asistentes se disfrutan de juegos mecánicos, entretenimiento en vivo y regalos de socios locales. Lo generado en Fiesta Back of the Yards ayuda a financiar los programas comunitarios del BYNC.
Se incluye en el puesto de los Chicago Bears una ruleta con regalos como lentes, collares, imanes, horarios y bolsas con la frase "¡Vamos Bears!" Dos familias suertes ganaron boletos a la fiesta familiar de los Bears, Family Fest.
El 2015 Chicago Bears Meijer Family Fest tendrá lugar en el Soldier Field el sábado 8 de agosto y es el primer vistazo a los 2015 Bears en acción en su cancha local. Los aficionados pueden disfrutar de un juego de práctica en vivo además de otras actividades familiares. Se puede visitar a ChicagoBears.com/events para obtener los boletos hoy.
Para más información de los eventos próximos de los Bears en su comunidad, visite a VamosBears.com.