The Bears suffered a major blow in Sunday's 28-10 victory over the Minnesota Vikings, losing starting right guard Lance Louis for the rest of the season with a knee injury.
The fourth-year pro, who was placed on injured reserve Monday, was hurt on a questionable block by Vikings defensive end Jared Allen. On Antoine Winfield's interception return in the third quarter, Allen launched himself into Louis' upper body as the Bears guard looked downfield.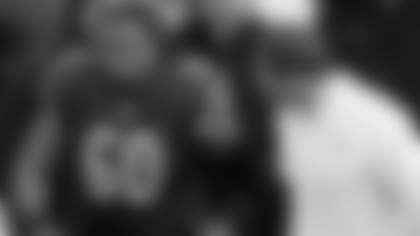 Bears guard Lance Louis is helped off the field Sunday after injuring his knee.
Asked Monday whether he felt Allen's hit was unnecessary, coach Lovie Smith said: "Yes, I did. Jared Allen plays the game a certain way. He's a good player in our league. But I think there are some plays when you look at them again you say, 'Hey, we could have done without that.'

"I think our game could do without that play. We have an injured player right now based on it. I think you could have gotten a block a little bit differently. That's about all I should probably say about it. I'm sure the league will look at it and they'll give an opinion about what they think."

Bears defensive end Israel Idonije gave his opinion Monday, agreeing with Smith.

"It wasn't necessary," Idonije said. "There have been a number of rules put in the game now that you can't hit a defenseless player. Lance's vision is clearly downfield. Allen hits him on his blind side. He could have laid him out with just using his hands to his chest.

"He had a lot of options. It's not a situation where he was just blazing and he had to lay out to make a saving play. He hit him that way because he chose to hit him that way. It's unfortunate because Lance has played very well for us."

Allen defended the block after the game, telling reporters: "I thought it was a legal hit. He's running to make a tackle, so I just went to block him. I never intentionally try to hurt anybody. I turned around, he was running to make a tackle and I threw myself into him to make a block.

"My condolences to him and his family. I never ever try and intentionally hurt anybody. I'm just trying to make a block and spring our guy down the sideline."

The Bears are very thin at guard. Chilo Rachal left the team last week and his replacement at left guard, Chris Spencer, also exited Sunday's game with a knee injury. Spencer was replaced by Edwin Williams, who had been inactive the first 10 games of the season.

When Louis went down, the Bears were forced to summon Gabe Carimi—who had lost his starting right tackle job to Jonathan Scott during the week—to line up at guard for the first time.

"Gabe Carimi played well at the right guard position for us," Smith said. "We were pleased with what he was able to do. It's a little bit different. He's been playing out in space and it's a different animal inside like that. But Gabe is a tough guy and he said he would be ready to go with whatever we asked him to do and he showed that [Sunday]."

Smith praised the line Monday, one day after the offense scored three touchdowns, converted 11-of-19 third-down opportunities and allowed only one sack—when center Roberto Garza stepped on Jay Cutler's foot as the quarterback dropped back to pass on the Bears' first play from scrimmage.

"A couple players went down," Smith said. "We had other players step up. That's what it's always about, that next guy getting up.

"I really liked what [Carimi] was able to do, when you haven't played that position and the team needs you and you step in right away and play pretty good. Just like Edwin Williams hadn't gotten a lot of time. But he stepped in and did a good job also. Jonathan Scott did a heck of a job also.

"The offensive line did some good things, which allowed our skill guys to take over."