It appears the opportunity that Bears rookie running back Jordan Lynch has been waiting for will finally come Thursday night in Cleveland.
With most of his veteran teammates expected to be held out of the preseason finale against the Browns, the converted college quarterback likely will get plenty of chances to carry the ball.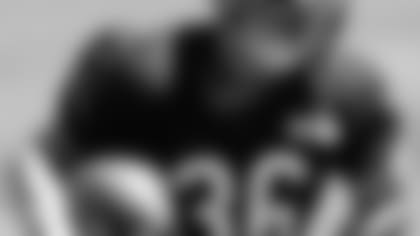 Jordan Lynch
"It's a very exciting week; now I get to actually go out there and kind of showcase my talent," Lynch said. "I'm really excited. I'm prepared for this and I just love football. I get a chance to go out there, fly around and have fun."
After rushing for 24 yards on seven carries in the preseason opener against the Eagles, Lynch did not touch the ball in back-to-back games versus the Jaguars and Seahawks. But he likely will have a chance to figure prominently on the stat sheet Thursday night.
"I expect you'll see quite a bit of him," said coach Marc Trestman. "I'm sure he'll have an opportunity to carry the football, to do a little bit of what he did a couple of games ago when he got a couple of reps and did very well running the football.
"It'll be a good opportunity for him to get out there and show what he's learned and how he's improved over the last month of playing a completely new position. He'll have an opportunity to get in the pass protection as well and catch some balls. I'm excited for him and his opportunity."
As a quarterback at Northern Illinois, Lynch used his arm and feet to torch opposing defenses. Last season the Chicago native finished third in Heisman Trophy voting and was named MAC offensive player of the year after passing for 2,892 yards and 24 touchdowns and rushing for 1,920 yards and 23 TDs.
In transitioning to running back in the NFL, Lynch feels he's shown dramatic improvement from rookie minicamp in May until now.
"It's a night and day difference," Lynch said. "I thought I knew what I was getting into, but I really didn't. The physical condition you have to be in to play running back and special teams is night and day. But it's fun to go out there and the more reps I get the better I get."
Asked what he would be able to accomplish if he lands on the Bears' practice squad this season, Lynch said: "The sky's the limit. The more reps I can get, like I said, the better. I feel like being on a practice squad like that there are so many things I can do.
"I can play quarterback. I can play running back. I can split out and play receiver and just give the Bears any chance to get a better look for that week."
The Bears must cut 22 players by Saturday to reach the NFL's mandatory 53-man limit. But Lynch insists that it's easy for him to stay focused on the task at hand and not dwell on his chances of earning a roster spot with his hometown team.
"I consider myself as a football guy," Lynch said. "I love to come out here. No matter what I do—quarterback, running back, receiver, special teams, scout team—I just like coming out here and competing every day."