One of the most intriguing free agents the Bears signed last week possesses familiarity with Vic Fangio's defense as well as impressive pass-rushing traits.
Aaron Lynch excelled as a rookie with the 49ers in 2014 while playing for Fangio when the Bears defensive coordinator served in the same capacity in San Francisco.
"We were [evaluating unsigned players] and right away Aaron Lynch stood out," general manager Ryan Pace told about 80 Bears partners Wednesday at the team's annual Business Summit.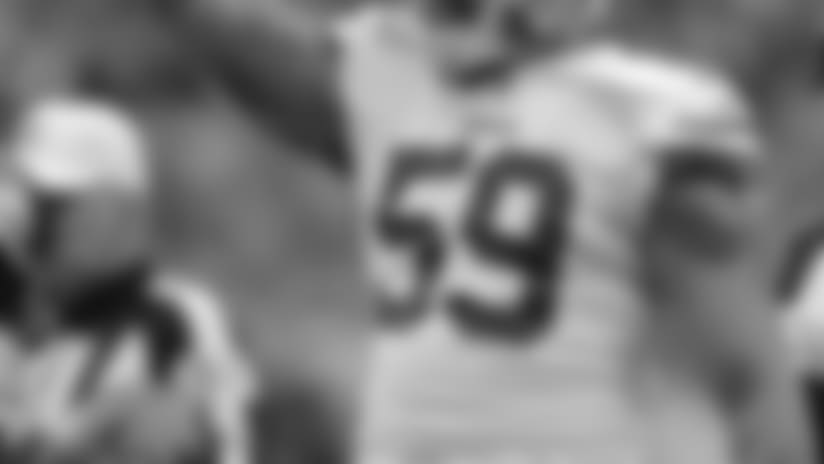 Reuniting with defensive coordinator Vic Fangio, outside linebacker Aaron Lynch hopes to rejuvenate his career with the Bears.

Selected by the 49ers in the fifth round of the 2014 draft out of South Florida, Lynch recorded six sacks while playing in all 16 games as a rookie. He followed with 6.5 sacks in 2015, but has compiled just 2.5 sacks the past two seasons while being limited to 14 games.
After signing a one-year contract with the Bears, Lynch told reporters that he looked at the opportunity as a chance to "rejuvenate his career."
"He's 270 pounds," Pace said. "He's got 34-inch arms. He can win multiple ways. He can win with outside speed, he can power, he can win inside. Vic knows him well. I think this guy has the traits to be a double-digit sack guy in this league."
Ascending player: Pace was not surprised that the rival Packers tried to pry cornerback Kyle Fuller away from the Bears by signing him to an offer sheet. The Bears ultimately matched the offer and inked Fuller to a four-year contract.
"We knew the teams out there who were cornerback-needy and Green Bay was one of them, so we weren't surprised," Pace said at the Business Summit. "We were just anxious to see what that offer sheet was, and fortunately when we got it and looked at it, it was a very fair contract for Kyle."
After missing the entire 2016 season following knee surgery, Fuller had a resurgent 2017 campaign, recording 68 tackles, two interceptions and a career-high 22 pass breakups while starting all 16 games.
"Everyone's excited," Pace said. "We still feel he's an ascending player. He had his best year last year. He was second in the NFL in pass breakups, and there's a lot of good play still ahead of him."
Backup plan: It's not a coincidence that the two reserve quarterbacks the Bears have signed in free agency both have experience operating first-year coach Matt Nagy's offense.
Second-stringer Chase Daniel had Nagy as his position coach for three seasons with the Chiefs from 2013-15, while third-stringer Tyler Bray spent the past five years working with Nagy in Kansas City.
Their familiarity with the system should help promising second-year quarterback Mitchell Trubisky assimilate.
"Both of those guys know this offense," Pace said. "In addition to that, Chase is a good player. He's a good No. 2 quarterback in this league who can step in and play at a winning level. And I think something that's a little underrated is he's been around great quarterback play with [the Chiefs'] Alex Smith and [the Saints'] Drew Brees. So not only does [Daniel] know this offense very well but he also knows what it takes to be a great quarterback in this league and the preparation that's required."
Familiarity breeds success: New special teams coordinator Chris Tabor's experience working with Cody Parkey with the Browns in 2016 played a key role in the Bears pursuing the kicker in free agency.
Parkey, who signed a four-year contract with the Bears March 14, was voted to the Pro Bowl as a rookie with the Eagles in 2014 and made 91.3 percent of his field-goal attempts (21 of 23) last year with the Dolphins.
"A lot of times with these kickers, statistically you're looking at them and you're watching tape," Pace said. "But you don't know about their makeup; how do they handle adversity, all those moments that inevitably are going to come. To have a coach who's been with him in some of those moments is big.
"He's young. He's made a Pro Bowl already. He's a proven kicker. He was our No. 1 target at that position and we were aggressive in making sure we'd get that done because that's obviously important."