Jordan Lynch's transition from college quarterback to NFL running back is off to a smooth start.
Whether he was taking handoffs or catching passes, the former Northern Illinois star looked the part during the Bears' first rookie minicamp practice Friday inside the Walter Payton Center.
"Jordan's a real football player; there's no doubt about it," said coach Marc Trestman. "He certainly didn't look out of place by any means today running around out there. It's just the first day, but he didn't seem awkward in any way running and catching the football in space."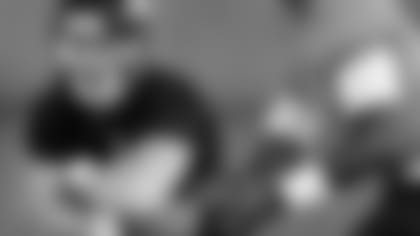 Quarterback Jerrod Johnson fakes a handoff to Jordan Lynch during Friday's practice.
Carrying the ball is nothing new for Lynch, a Chicago native who attended Mount Carmel High School. Playing quarterback at NIU, he rushed for 1,815 yards and 19 touchdowns in 2012 and 1,920 yards and 23 TDs in 2013. Last season Lynch broke his own FBS record for quarterbacks by rushing for 321 yards in a win over Western Michigan.
Speaking to the media after Friday's practice, Lynch said he felt good at running back.
"That's one thing I did do at Northern; carried the ball a lot so I kind of did some running back drills back in the college days," said Lynch, who is wearing No. 36 with the Bears. "I studied the playbook all last night and I felt very comfortable out there."
Lynch passed for 3,138 yards and 25 touchdowns in 2012 and 2,892 yards and 24 TDs when he finished third in Heisman Trophy voting and was named the MAC offensive player of the year. But the 6-foot, 217-pounder didn't balk when it became apparent that he'd have to switch positions entering the NFL.
"It wasn't tough at all," said Lynch, who also lined up on the punt team in Friday's practice. "I'm a football player. I love football and I'll do whatever it takes to stay in the NFL. I guess the toughest thing is some footwork drills playing running back and just trying to pick up on little things with special teams and running back."
In their brief time together, Trestman has been very impressed with Lynch's attitude.
"I know he's hungry for information," said the Bears coach. "He wants to know what we're going to do tomorrow yesterday and he wants to know what we're going to do three days from now today, so he's hungry to learn. He's extremely motivated. He's very smart."
During the final stages of the draft last Saturday, Trestman called Lynch, telling him that the Bears were interested in either picking him in the seventh round or signing him as an undrafted free agent.
"He said they wanted me to be a Chicago Bear whether they drafted me or not," Lynch said. "Right after that, I talked to my agent and figured out that was the best fit for us.
"Green Bay was [also] looking at me. They started to shy away a little bit late; they'd kind of gone in a different direction with another quarterback. I felt like playing running back and playing special teams could be my calling in the NFL."
One of the biggest adjustments that Lynch needs to make as an NFL running back involves the physical demands of the position.
"Quarterback is all mental in practice," Lynch said. "Now I've got to turn on the physical side in practice and do special teams and always on the go. Staying in shape is going to be key."
Given Lynch's ability to run and pass, he could be utilized in a variety of ways on offense and special teams. But Trestman wasn't ready to speculate about those possibilities after one practice.
"It's premature to go in that direction," Trestman said. "We try to take every guy like Jordan and put him in a place where he can succeed and make the team. His best opportunity is not at the quarterback position, although I thought he had a very sufficient workout when he came in.
"But we're trying to find a place for him and give him every opportunity to fulfill a goal that he has, which is to play in the National Football League. This is a starting point for him. We've got a long way to go, but it was a good start."