The following is the seventh of eight position previews in advance of the May 8-10 NFL Draft:*
A gifted athlete who did not play against top competition, the University of Buffalo's Khalil Mack is expected to be the first linebacker selected in this week's draft.
The 6-3, 251-pounder was a four-year starter at Buffalo, where he was a Butkus Award finalist last season as a senior after recording 100 tackles, 19 tackles-for-loss and 10.5 sacks. He also broke up seven passes, returned two of three interceptions for touchdowns and forced five fumbles.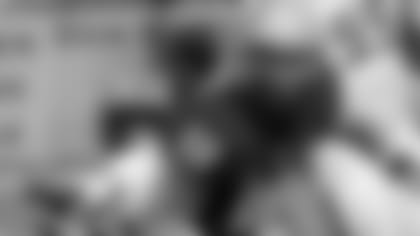 Khalil Mack
ESPN's Mel Kiper Jr. ranks Mack, an outside linebacker, as the third best prospect in the draft and predicts that he will be chosen by the Raiders at No. 5, writing: "Still wouldn't shock me if he went No. 1. His athleticism and versatility limit questions about his competition level."
In his 2014 NFL Draft Preview, Nolan Nawrocki describes Mack as "a havoc-wreaking rush linebacker with the burst and acceleration to excel as a right defensive end in a '40' front," and states that he has "demonstrated the instincts, toughness, athletic ability and explosive power to line up at any linebacker position in an even or odd front and factor readily."
Another top prospect is Alabama inside linebacker C.J. Mosley. Last season the 6-2, 234-pounder won the Butkus Award as the nation's top linebacker and was named SEC defensive player of the year after registering 108 tackles and nine tackles-for-loss with five pass breakups and one forced fumble.
Kiper ranks Mosley as the ninth best prospect in the draft and predicts that he will be selected by the Dolphins at No. 19, writing that he's "special in coverage with great instincts and range" but cautions that Mosley could drop a bit in the draft due to past elbow, hip and shoulder injuries.
Nawrocki sees Mosley as a "smart, instinctive, fast-flowing, every-down linebacker" who has the "football temperament, desire and work habits to emerge as a tackling machine in the pros."
NFL.com's Mike Mayock ranks Mosley as the top inside linebacker in the draft, followed by Wisconsin's Chris Borland, Louisville's Preston Brown and Michigan State's Max Bullough.
Last year as a senior Borland earned first-team All-Big Ten honors for the third straight season and was named the conference's defensive player of the year after compiling 112 tackles, 8.5 tackles-for-loss and four sacks.
Nawrocki describes the 5-11½, 248-pounder as a "short, active, athletic, instinctive tackling machine who will have to overcome physical limitations to establish himself as a dependable long-term starter, though he has immediate special-teams ability and the makeup to push for a more prominent role."
Mayock ranks Mack as the best outside linebacker in the draft, followed by UCLA's Anthony Barr, Ohio State's Ryan Shazier and Boise State's Demarcus Lawrence.
Barr entered UCLA as a running back before being switched to linebacker as a junior in 2012. In his first season on defense, the 6-5, 255-pounder ranked second in the nation with 13.5 sacks while recording 83 tackles and 21.5 tackles-for-loss. Last year Barr recorded 65 tackles, 20 tackles-for-loss and 10 sacks with five forced fumbles.
Nawrocki describes Barr as a "disruptive, athletic specimen with the pass-rush potential to effortlessly emerge as a double-digit sack producer."