The injury-depleted Bears defense suffered another setback Friday when safety Major Wright hurt his hamstring in practice and was listed as questionable for Sunday's game in Minnesota.
"We probably won't know until game time where he's at," said coach Marc Trestman. "It was a slight pull. That's all I know right now. I talked to him afterwards and he said he felt pretty good. We'll have to see where he is [Saturday]."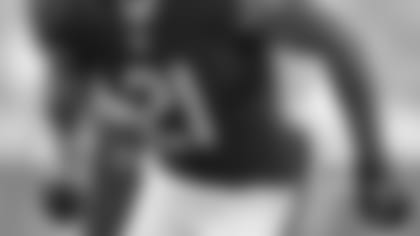 Bears safety Major Wright has not missed a start since late in the 2011 season.
Wright has started 29 straight games dating back to 2011. This season he leads the Bears with 88 tackles while also recording two interceptions, one pass breakup and two forced fumbles. Since entering the NFL in 2010, Wright leads all safeties with three interception return touchdowns.
If Wright is unable to play against the Vikings, he would be replaced at strong safety by Craig Steltz. The versatile sixth-year pro has appeared in 72 games with seven starts since joining the Bears in 2008 as a fourth-round draft pick from LSU.
"Craig's been around," Trestman said. "He knows the position. He knows his assignments. He's not a guy who's going to make a lot of mistakes. I think we'll be fine at the position. I have a lot of comfort with him."
Wright isn't the only Bears safety who is hurt. Anthony Walters has been ruled out of Sunday's game with a groin injury, leaving Steltz and Chris Conte as the team's only two healthy safeties.
As a result, the Bears bolstered the position Friday by elevating Sean Cattouse from the practice squad to the active roster. A Chicago native who attended Hubbard High School, Cattouse entered the NFL in 2012 as an undrafted free agent with the Chargers. He spent part of his rookie season on San Diego's practice squad before appearing in one game late in the season.
The Bears made room on the roster for Cattouse by waiving defensive tackle Tracy Robertson, who made his NFL debut in last Sunday's loss to the Rams.
Defensive tackles Jeremiah Ratliff (groin) and Stephen Paea (toe) both practiced without restrictions Friday and are questionable for Sunday's game in Minnesota.
Trestman said Thursday that Ratliff was "in line to go" against the Vikings and revealed Friday that he likely would play both the three technique and nose tackle positions.
Ratliff spent his first eight seasons with the Cowboys after being selected by Dallas in the seventh round of the 2005 draft out of Auburn. He was voted to four straight Pro Bowls while starting all 64 games from 2008-11, but was slowed by injuries last year and has not played since last Nov. 18.
"He's brought something to our locker room already," Trestman said. "And on the practice field, our offensive linemen have felt him during the week; his presence on the field. That's a good sign, and we'll see where it goes.
"We're not going to make any proclamations at this point in time. But demeanor-wise, his attitude, the way he's fit into our locker room and the way he practiced this week, he was a guy out there that everybody realized was out there practicing. That's a good thing. And we'll see where it takes us on Sunday."
Having not played for an entire year, Ratliff will probably only get a limited number of reps.
"I'm not going in with any expectations," Trestman said. "We'll probably have a number [of snaps] we'd like to get out of him and we'll see how he plays and see where his conditioning is and his pad level is and things like that."
In other injury news, cornerback Derrick Martin (hamstring) is questionable, while running back Matt Forte (knee) kicker Robbie Gould (illness) and receiver Brandon Marshall (quadriceps) are probable. Quarterback Jay Cutler (ankle) and linebacker Lance Briggs (shoulder) have been ruled out of the game.