Long-snapper Patrick Mannelly, the Bears' all-time leader in seasons and games played, could miss Sunday's contest against the Lions with a calf injury he sustained Monday night in Green Bay.
"It doesn't look good for this week," coach Marc Trestman said Wednesday at Halas Hall.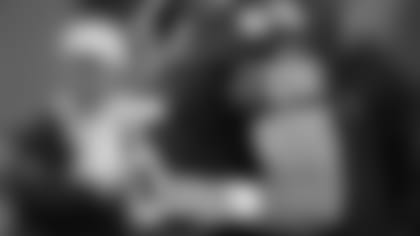 Patrick Mannelly suffered a calf injury in the first half of the Bears' stunning 27-20 victory over the Packers.
Mannelly suffered the injury in the first half of the Bears' stunning 27-20 victory over the Packers, but he finished the game—even after backup James Anderson practiced snapping to punter Adam Podlesh just before the start of the second half.
Mannelly was selected by the Bears in the sixth round of the 1998 draft out of Duke. The 38-year-old holds franchise records for longevity with 16 seasons and 239 games and is the NFL's only player from the 1998 draft still with his original team.
Mannelly is expected to be replaced Sunday against the Lions by Jeremy Cain, who was signed by the Bears Wednesday. Cain played in eight games as a reserve linebacker with the Bears in 2004-05 before spending five seasons with the Titans (2007) and Jaguars (2009-12).
Cain appeared in all 16 games as Jacksonville's long-snapper each of the past four seasons, teaming with Bears punter Adam Podlesh in 2009-10.
Two deep: Although he hopes that Jay Cutler will be able to start against the Lions, coach Marc Trestman knows how fortunate the Bears are to be able to lean on backup Josh McCown.
McCown completed 22 of 41 passes for 272 yards with two touchdowns, no interceptions and a 90.7 passer rating Monday night, helping the Bears snap a six-game losing streak to the Packers.
"He played really well," Trestman said. "He took care of the football. He was very efficient. He missed some throws, just like a number of guys miss throws. But he did a great job of moving the football. He made a great run on third down, made some key third-down throws. His touchdown throws were outstanding throws. I thought his performance level was very high."
"Josh doesn't have a 'C' on his chest, but he's definitely one of our captains, especially from an emotional standpoint, the way he gets guys going," added receiver Brandon Marshall. "The way he rallies the guys in practice, the way he prepares, it's contagious, a trickle-down effect.
"He affects our coaching staff, he affects players on offense and defense, he's just that type of guy. Exactly what we saw in practice from OTAs is the same Josh we saw the past two games that he's been up for us. Like I've said before, I don't think you can ask for a better No. 2 at the position. His play's proved that he can play ball."
New addition: The Bears on Wednesday officially signed veteran defensive tackle Jay Ratliff, who was selected to four Pro Bowls in eight seasons with the Dallas Cowboys.
Ratliff has not played since undergoing offseason surgery on his groin and recently said that he will need a couple more weeks to recover before he's ready to play.
"We'll have to see," said defensive coordinator Mel Tucker. "He'll be working with the medical staff and we'll take it one day at a time and then we'll just see how it goes. But we got him here. We feel good about that, and we'll just be encouraged moving forward and see where it goes."
Having lost defensive tackles Henry Melton and Nate Collins for the season with torn ACLs, the Bears hope that Ratliff will be able to add quality depth at an injury-depleted position.
"First and foremost, he's a veteran guy," Tucker said. "He's a no-nonsense pro's pro. He's very serious about the game of football. He's a leader-by-example type of guy. Those are the intangibles and then obviously his ability to win one-on-one and make plays we like, so I'm happy he's here."