Long-snapper Patrick Mannelly, the longest tenured player in Bears history, will return for a 16th season after signing a one-year contract extension through 2013 on Monday.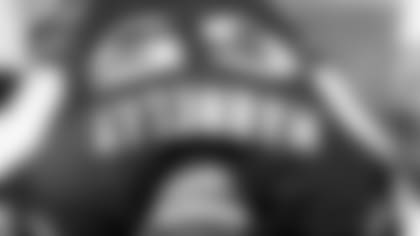 Patrick Mannelly was selected by the Bears in the sixth round of the 1998 draft.
"I'm really excited to have the opportunity to play for the Bears for one more year," Mannelly told ChicagoBears.com. "Being here as long as I have been, I feel like it's my second family and I'm just excited to be a part of it for another year."
Mannelly, 37, is the Bears' franchise record-holder in games played (230) and seasons played (15). He's the only player from the 1998 NFL Draft still playing with the team that selected him.
"I'm extremely pleased we were able to reach a one-year extension with Patrick Mannelly," said general manager Phil Emery. "He epitomizes what we're looking for in a Chicago Bear: excellence in performance and great leadership."
Mannelly has been voted the Bears' special teams captain each of the past five seasons.
"Patrick has done so much for us here," said coach Lovie Smith. "He's been great in the locker room, has great leadership skills. He's an excellent snapper. He comes to work every day. I know he's excited about [signing the extension] and we are too."
When Mannelly arrived as a sixth-round pick from Duke, he was happy to make the team as a rookie and never dreamed he'd play for a decade and a half.
"I remember when I made final cuts after training camp I was excited to play for that one year," Mannelly said. "To look back 15 years later and have the opportunity to play for a 16th year is really exciting."
Mannelly's career has been about much more than longevity. He's been and still is one of the NFL's best long-snappers and is a solid tackler on punt returns.
Mannelly has also been durable. He only missed three games in his first 13 seasons before suffering the first serious injury of his career last year when he sat out the final six games with a torn ACL.
Asked how long he'd like to continue to play, Mannelly said: "I want to play until they tell me I can't do it anymore."
Roster move: The Bears on Monday waived receiver Dane Sanzenbacher. The second-year pro had played sparingly in four games this season, catching one pass for seven yards.
Sanzenbacher joined the Bears in 2011 as an undrafted free agent from Ohio State. He appeared in all 16 games with one start as a rookie, catching 27 passes for 276 yards and three touchdowns.