Patrick Mannelly will play in the Pro-Am portion of a Senior PGA Tour event at North Shore Country Club this weekend. But it likely won't be the last time he hits the links.
The longest tenured player in Bears history announced his retirement Friday after appearing in 245 games over 16 seasons, both franchise records. The team's long-snapper since he was selected in the sixth round of the 1998 draft out of Duke, Mannelly was waiting to see how he recovered from offseason hip surgery before deciding whether to return for a 17th season.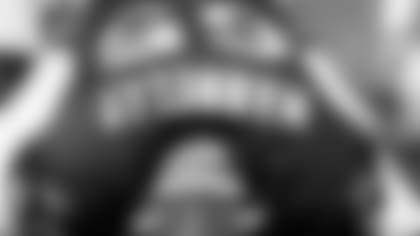 Long-snapper Patrick Mannelly played a Bears-record 16 seasons and 245 games.
"I wanted to go all-in with my rehab, working out, everything," Mannelly said Friday during a conference call with reporters. "I said I'd listen to my body and my body's tapping me on the back and saying, 'That's it, bud, I think you're done.'
"So it's been an awesome 16 years, and I'm fortunate to be able to walk away. People always say that. But I am. The body is just done. It's time to move on to other things in life and look forward to the next chapter."
Mannelly, who turned 39 in April, revealed that he's also been bothered by soreness in his left knee, elbows and shoulders while lifting weights during rehab. "I feel 39 years old," he said.
Mannelly thanked the Bears organization "for an incredible 16 years."
"Being a Chicago Bear this long, the McCaskeys are like family," Mannelly said. "I'd like to thank Mrs. McCaskey and her family for all they've done for me. It's been an honor to be a Bear and represent them throughout my career.
"And were it not for the late Mark Hatley and his staff, I never would have been a Bear. So I'd like to thank them and coach [Dave] Wannstedt and his staff for bringing me into the NFL.
"To be fortunate enough to play 16 years, I could be here all day thanking everyone who has helped me during my career. But I will be spending the next few weeks reaching out to each and every one of them and thanking them all. I do have one final thing: I'd like to thank all my teammates over the years for making the last 16 years of my life so unforgettable."
A well-respected team leader and co-captain, Mannelly had a standing offer from Bears general manager Phil Emery to return for a 17th season if he felt up to it.
"I was honored and floored when he offered that after the year," Mannelly said. "I'd like to thank Phil for that. It's never easy to retire. But that made this decision a lot easier; to go through that [decision-making process] knowing that I had an opportunity for a job."
Mannelly cited two games as the most memorable of his career. The first he mentioned was the Bears' 39-14 win over the Saints in the 2006 NFC Championship Game at Soldier Field.
"That was pretty special," he said. "Celebrating with your fans in your home stadium is pretty awesome, and then knowing that you get to go live a dream by playing in a Super Bowl was great."
The other contest Mannelly recalled was his very first game in 1998 against the Jaguars.
"I remember looking between my legs before the first snap of the game and Todd Sauerbrun was sitting back
there and I actually told myself to take a little mental snapshot," Mannelly said. "That's something I'll never forget. And then just all the games at Soldier Field. Running out of the tunnel and hearing the crowd, those have been amazing."
Mannelly hopes to remain involved with the Bears, though he has not had any discussions with the team about any specific role.
"Hopefully I'm allowed in the stadium to watch some games," he said. "Marc Trestman and I talked. He is an unbelievable person. He's doing a lot with bringing guys back and letting them be around, so I foresee me coming into the building every now and then and seeing all my friends."
Mannelly is in no hurry to leap full-time into a second career, though he concedes he has thought about becoming a coach. In the short term, he'll spend more time with his wife and daughter.
"I have talked to quite a few people, not just in the last few weeks but my whole life, my whole career," Mannelly said. "I've got ideas I'd like to do or try. We'll see, leave that in the future.
"I'm going to sit down and talk to some more people here in the future and see what's out there. I don't envision me jumping full steam into anything right away. I'd like to step back a little bit and figure out what's best for me and my family."