The last time the Bears played back-to-back road games against the Redskins and Packers, long-snapper Patrick Mannelly recalls that the team headed to Green Bay with heavy hearts.
Mannelly was in his second NFL season in 1999 when the Bears lost in Washington 48-22 and were blindsided the next day with the news that Walter Payton had died of bile duct cancer.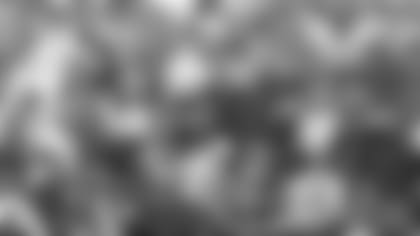 Bryan Robinson blocks Ryan Longwell's 28-yard field goal try to preserve the Bears' 14-13 win in 1999.
Capping an emotional week, the entire team attended a memorial service at Soldier Field honoring the legendary running back the day before their game at Lambeau Field.
Inspired by Payton's memory, the Bears snapped a 10-game losing streak against the Packers in dramatic fashion as Bryan Robinson preserved a 14-13 victory by blocking Ryan Longwell's 28-yard field goal attempt on the final play of the game.
"I just remember everybody hugging each other and high-fiving and swarming each other down on the field," said Mannelly, who was selected by the Bears in the sixth round of the 1998 draft.
"The week was a lot about Walter Payton and I think it put more emphasis on the game just because of the history he had with the game. It was a great service. A bunch of people spoke and it was moving. A fair amount of guys got to know Walter Payton or at least had met him and to beat the Packers and break that 10-game losing streak was huge."
Robinson gave credit to Payton for the blocked field goal, saying after the game: "I think Walter Payton actually picked me up in the air because I can't jump that high."
Mannelly recalls walking into the locker room and seeing No. 34 patches on every Bears jersey.
"That's a good memory," he said. "That was pretty cool. There have been a lot of great players who have come through this franchise and people could argue that he's No. 1. To be able to wear that number on our jerseys that day was pretty special."
Mannelly met Payton when the Bears were conducting joint practices with the New Orleans Saints in La Crosse, Wis., in the summer of 1998.
"It was before cell phones and I was in a cubby on a phone call with my wife and I felt this hand come up my back and just pinch the heck out of my shoulder," Mannelly said. "I turned around and started to say 'what the ...' and it's Walter Payton. He said he just wanted to introduce himself and welcome me to the Bears.
"I got back on the phone and told my wife that was Walter Payton and she said, 'Who is that again?' I said, 'I'll call you back later tonight. You find out who that is and then we'll talk.'"