Bears veteran long-snapper Patrick Mannelly will receive the Ed Block Courage Award on Tuesday, April 8, at a luncheon at Maryville Academy in Des Plaines.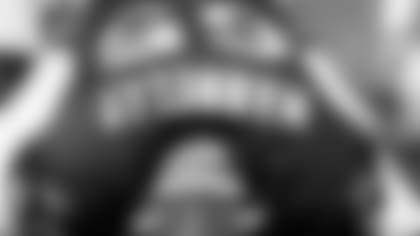 Patrick Mannelly has appeared in more games than any player in Bears history.
The prestigious award is presented to one player on all 32 NFL teams who best exemplifies a commitment to sportsmanship and courage and serves as an inspiration in the locker room. The award recipients, who are voted for by their teammates, symbolize professionalism, great strength and dedication, and they are considered community role models.
"I've always believed that anytime you get an award from your teammates, that's one of the highest honors you can receive," Mannelly told ChicagoBears.com. "If your teammates are honoring you, it means a lot and this award means a lot to me.
"Physically, the last couple years have been a little more challenging than when I was younger. To overcome some of the injuries I've had has made these years a little more trying on this old body. But when your teammates recognize that and give you an award for your courage and sportsmanship, it means a lot."
Mannelly, who is slated to become an unrestricted free agent on Tuesday, holds Bears all-time records for games (245) and seasons (16) played. The 38-year-old is the only NFL player selected in the 1998 draft who is still with his original team.
Ed Block was a long-time head trainer with the Baltimore Colts who was a pioneer in his field. The Ed Block Courage Award Foundation promotes the prevention of child abuse by raising awareness of the epidemic and assisting agencies that provide for the care and treatment of abused children.
The luncheon also honors the life and contributions of the late Ed McCaskey by raising money for a scholarship fund in his name. During his tenure with the Bears, McCaskey was known for his support of and generosity to Maryville. The memorial fund, which benefits Maryville's education programs, was established to carry on the spirit of giving that was so much a part of his life.
Mannelly had a great affinity for McCaskey, who passed away on April 8, 2003 at the age of 83.
"We have a picture of him in our training room," Mannelly said. "I miss the guy. He'd be down [in the training room] getting treatment and we'd have great conversations back in the day. Anytime you can also honor a McCaskey, that means a lot."
Fans can purchase tickets to attend the luncheon for $60. Click here for more information.