The process that culminated in the Bears hiring Marc Trestman as their head coach last Wednesday took general manager Phil Emery all over the country in search of Lovie Smith's successor.
"It was an interesting road and a road well-traveled," Emery said last Thursday at Halas Hall. "It was a very inclusive process. I wanted to talk to people from all different backgrounds.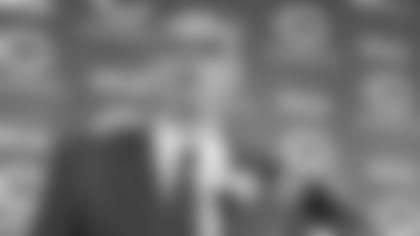 Phil Emery was impressed with the success that Marc Trestman had north of the border in the CFL.
"We also reached out to people we did not interview. We had people reach out to us. There was a wide variety of interest in this job, which to me is the finest job in the NFL, working for the greatest fans in the NFL and the best city in the NFL. It's a gem, it's a prize, and that was expressed to me during those one-on-one interviews."

The initial interviews that Emery conducted lasted from three-and-a-half to eight hours. ESPN's Adam Schefter reported that two of the dozen or so candidates told him they had never been interviewed by anyone as prepared and detailed as the Bears general manager.

"I formed some connections with some of those candidates, and I made that one of the criteria of our search," Emery said. "I wanted to find somebody who would be in lockstep with us, with me, so that we could move together as a team to attain our goals."

The three finalists that Emery selected—Trestman, Indianapolis Colts offensive coordinator Bruce Arians and Seattle Seahawks offensive coordinator Darrell Bevell—were brought to Halas Hall for rigorous second interviews that lasted seven-and-a-half to eight hours.

The trio also met with Bears chairman George H. McCaskey and team president and CEO Ted Phillips, both of whom then discussed the candidates with Emery.

"We went through a lengthy discussion to talk about those candidates and the skills that they possessed and projecting them to our head-coaching position," Emery said.

During that process, Bevell was eliminated because he lacked head-coaching experience.

"He's an excellent coach with a lot of skills and has a lot to offer, but the overriding factor with Bruce and Marc is they both had experience in leading men to attaining goals in a positive way," Emery said.

"We had more discussion after we had gotten it down to two. At the end, both George and Ted asked me my thoughts on who was the final person. I gave them my thoughts, and George told me: 'We always told you at the end we would defer to your candidate.' He said, 'It's time to defer. Who is the choice?' I said, 'Marc Trestman.'"

Trestman was ultimately hired to be the 14th head coach in Bears history because he best met Emery's criteria for the job. The general manager had stated that he was seeking a highly-organized and upbeat individual who has demonstrated excellence while possessing leadership skills.

"Marc met all those standards easily, and the evidence is there," Emery said.

Trestman joins the Bears after spending the last five seasons as head coach of the Montreal Alouettes in the Canadian Football League, compiling a 59-31 record and winning back-to-back Grey Cup championships in 2009 and 2010.

Prior to that, Trestman earned a reputation for developing quarterbacks such as Steve Young and Rich Gannon during 17 years as an NFL offensive coordinator and position coach.

Emery was especially impressed with the success Trestman had in the CFL due to "the skills as a professional and the mental toughness that it takes to go into some place that you've never been before, that they don't know you or anything about you, where they speak a foreign language."

"It's a town unfamiliar to you in a game that is different than the one you're used to coaching," Emery said. "To have success and win championships, that tells me a lot about that candidate. I want to be working toward championships with that individual."

Trestman's quiet confidence and intellect also appealed to the Bears general manager.

"Those are attractive qualities," Emery said. "The thing that was most remarkable that came out in his interviews and when discussing with people who Marc is, was there's a heck of a football coach under all that quietness and confidence and intellect.

"Do not underestimate Marc Trestman as a competitor. He's as tough-minded and football-oriented as anybody I've been around in 31 years in this game. It'll be evident when you see our team's play with the tempo they play and with the competitiveness that they play.

"Those were the keys in my mind of why Marc Trestman is now the head football coach of the Chicago Bears."