Marcus Robinson took a lot of big hits during his career as a Bears receiver. But he was never blindsided on the field like he was in April 2015 when he received some devastating news.
One Sunday morning Robinson was preparing to go to church with his wife, daughter and son when 10-year-old Marcus Robinson Jr. complained about a painful bump on the back of his leg.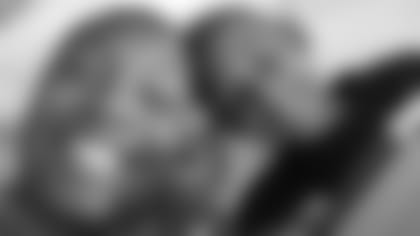 Former Bears receiver Marcus Robinson clowns around with his son, Marcus Jr.


The family had just returned from a spring break vacation to Mexico, so Robinson surmised that his son might have been suffering from an infected spider bite. A trip to an immediate care clinic led to a hospital visit and eventually sent the Robinsons down a nightmarish path they never anticipated.
After a routine test revealed an extremely low blood count, Marcus Jr. was sent to Advocate Children's Hospital in Park Ridge to see a hemoglobin specialist. Following additional tests, the fifth-grader was diagnosed with acute lymphoblastic leukemia. 
"The doctor came in and told us the bad news," Robinson said. "It was crushing. It was something we never thought of. It wasn't on our minds, our radars, nothing. It was really hard in the beginning, but you have to be strong for him because he doesn't really know what's going on.
"When you first hear it, there are no words to describe how you feel. They told us out of the room. But the doctors also want to let the kids know, so they want to sit there and explain everything to you in front of the kids. But I said, 'He's 10. He's not going to compute everything you're saying.' When kids hear cancer, they hear death. So we're just going to say leukemia, not cancer."
Robinson knew the importance of staying strong in front of his son.
"You can't cry and be all emotional because you want him to know that he's going to be OK," Robinson said. "It was a difficult moment. I sat in there with him for a couple hours, but then I went to my car and I just broke down."
The good news was that the disease had been caught early and had not spread. Marcus Jr. underwent chemotherapy treatments every two weeks for about seven months and continues to receive treatments once a month. He has been cancer free since the second month after he was diagnosed and the hair he lost has returned. And while it's nearly impossible to tell that Marcus Jr. was ever sick, the scars still run deep for his family.
"In the beginning it was horrifying," said his father. "They tell you there's an 85-to-90 percent change that he's going to be fine. So you think eight of nine kids come out with no problems, but you always think of that one. It was really rough in the beginning."
A hero to many when he set the Bears single-season receiving record with 1,400 yards in 1999, Robinson looks up to his son for how he handled his ordeal.
"We believe in God and we pray and it was a blessing for us to see his attitude," Robinson said. "Marcus would get chemo in his back and 30 minutes we'd go outside to leave. He didn't want to take the elevator; he wanted to run down the stairs. This kid just got chemo in his spine and he's coming outside pretending he's shooting a basketball."
The cancer scare changed the way the Robinson family views life—and each other.
"You enjoy your day. You enjoy every moment you get," said the former Bears receiver. "You're looking at your kids grow and you just see how amazing they truly are. We try to do a lot of things as a family. It has definitely made our family closer."