There's a sign in the Halas Hall hallway just outside the positional meeting rooms that reads: "Ability is important, but dependability is critical."
No Bears player exemplifies those words more than receiver Marc Mariani, an unheralded sixth-year receiver who is making the most of a rare opportunity to play on offense.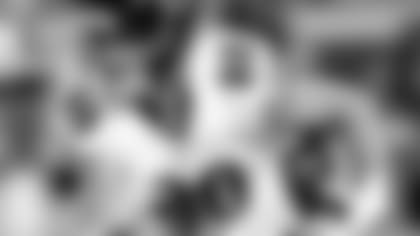 Marc Mariani spent his first two NFL seasons with the Tennessee Titans.
Primarily a return specialist since entering the NFL with the Tennessee Titans in 2010, Mariani has filled in admirably for the injured Eddie Royal, catching six passes for 68 yards over the last four games. That output matches the six receptions Mariani had in his previous 39 NFL contests.
"You're going to get everything he's got," said quarterback Jay Cutler. "There is no ego there. He's going to give you 110 percent. You know exactly where he is going to be and when he is going to be there. So you've got to appreciate that."
Mariani excelled in the Bears' 17-13 Thanksgiving night win over the Packers, catching a career-high three passes for 35 yards. His receptions of 10, 4 and 21 yards all turned third downs into first downs, with the first two catches sustaining a drive that resulted in his team's first touchdown.
Mariani spent his first two NFL seasons with the Titans, earning a Pro Bowl berth as a return specialist as a rookie in 2010. Injuries later derailed his career, forcing him to miss the entire 2012 and 2013 campaigns before he signed with the Bears last November.
When Adam Gase took over as Bears offensive coordinator this year, he heard good things about Mariani from two of his assistants, returning receivers coach Mike Groh and quarterbacks coach Dowell Loggains, who had worked with Mariani in Tennessee.
"We just had to see how he fit into what we were doing," Gase said. "He picked everything up very quickly and embraced his role. Obviously we wanted Eddie to be that guy. [But] Marc got thrown in there and has done a great job ever since he got called upon."