Marc Mariani was voted to the Pro Bowl as a rookie return specialist with the Titans in 2010. But his promising career was derailed by injuries beginning in the 2012 preseason.
On Sunday, Mariani will play in his first NFL regular-season game since 2011 when he replaces the injured Chris Williams as the Bears' punt and kickoff returner against the Buccaneers.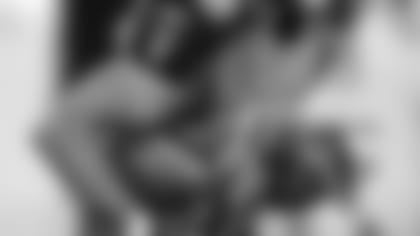 Marc Mariani
"I've had some time off, but I'm real excited about this opportunity," Mariani said Friday after practice. "I feel very confident that I can go out there and help this team win. I've been waiting for this shot and I'm going to make the most of it."
After Williams injured his hamstring in last Sunday's win over the Vikings, the Bears signed Mariani on Tuesday. Asked what he had been doing since being released by the Titans in August, Mariani said: "Just working my (butt) off.
"I was hoping the call would come," he said. "I was preparing for it every week. I knew that it would happen fast and it's happened real fast. I knew that I had to be ready when my number was called, so I've been waiting and trying to stay as best prepared as I can, so I'm excited for Sunday."
Mariani, 27, was selected by the Titans in the seventh round of the 2010 draft out of Montana. He was voted to the Pro Bowl as a rookie after scoring touchdowns on a 98-yard kickoff return against the Broncos and an 87-yard punt return versus the Redskins.
Mariani appeared in all 32 games with Tennessee in 2010-11, averaging 24.8 yards with one touchdown on 92 kickoff returns and 11.2 yards with two TDs on 73 punt returns. He missed the past two seasons with a broken leg in 2012 and a shoulder injury in 2013.
"He's worked hard this week," said coach Marc Trestman. "He's had a reliable week, he's picked things up he needed to pick up to get us going in the return game, and I think all of us feel good about that [and] look forward to seeing him play."
The Bears have struggled in the return game this season, averaging just 22.8 yards on 33 kickoff returns and 6.2 yards on 13 punt returns. In last Sunday's win, Williams averaged 14 yards on three kickoff returns and 5.7 yards on three punt returns.
Asked about feeling pressure to perform Sunday, Mariani said: "It's what I love to do. I feel like standing under punts is the greatest feeling in the world. I enjoy that. I'd be lying to you if I said I wasn't a little nervous. But just to have those game-day butterflies again is a beautiful thing. I've had way too many Sundays on the couch this year, so I'm ready to go."
Mariani is excited to play for Bears special teams coordinator Joe DeCamillis.
"I love him," Mariani said. "He's intense. He demands a lot and I wouldn't have it any other way. He's a high energy guy and I enjoy it and I want to make plays for him."
In other injury news, defensive end Trevor Scott (knee) and linebacker Darryl Sharpton (hamstring) have been ruled out of Sunday's game against the Buccaneers.
Offensive linemen Jordan Mills (ribs) and Eben Britton (illness) and nickel back Demontre Hurst (knee) are questionable. Receivers Brandon Marshall (ankle), Alshon Jeffery (hamstring) and Josh Morgan (shoulder) are all probable, as is defensive tackle Ego Ferguson (illness).