In his first two games with the Bears, return specialist Marc Mariani has made a positive first impression on special teams coordinator Joe DeCamillis.
"He's been very good with his return mechanics, which is what we talked about when we signed him," DeCamillis said Sunday after practice.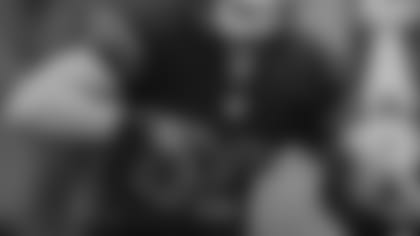 Marc Mariani
"He's been very decisive in his decisions, and he's shown a little bit of juice. He's probably got a little bit more juice than probably he had at the end of preseason. His legs are fresher. Hopefully it keeps going the way it is right now. Hopefully we can get some open space for him."
After returning a kickoff 30 yards in a win over the Buccaneers Nov. 23, Mariani had a 16-yard punt return that set up the Bears' first touchdown in their Thanksgiving loss to the Lions.
The Bears have struggled to find a return man this season, using Chris Williams, Rashad Ross and Senorise Perry on kickoffs and Williams and Santonio Holmes on punts.
Mariani, who signed with the Bears Nov. 18, was selected to the Pro Bowl as a return specialist in 2010 as a rookie with the Titans. He's trying to resurrect his career in Chicago after missing the last two seasons with a broken leg in 2012 and a shoulder injury in 2013.
Mariani got an opportunity to play against the Buccaneers less than a week after signing with the Bears in part because he excelled in his first practice under difficult conditions.
"I wanted to see him catch punts; that was the main thing," DeCamillis said. "He did a great job. It was really cold that day. We practiced inside and had to take him outside. It was good to see him do that."
Motivation still there: While the Bears are virtually assured of not making the playoffs, defensive end Jared Allen is not concerned about a lack of incentive over the final four games.
"I'm motivated because I want to be the best," Allen said. "We all want to go to the playoffs. We all want to win the Super Bowl. But if you're not self-motivated in this game, you'll get exposed. Those guys every year get exposed.
"For me it's just about going out there and beating the guy across from me. I'm trying to win every game I play in. We can still have a 9-7 year if we win out. We can still have a winning season. You've got to look at the positives. More importantly … I refuse to be the guy that's going to let my team down. I'm going to give it all I've got until the last snap of the last game."
Prideful group: Facing the NFL's top-ranked run defense on Thanksgiving in Detroit, the Bears opted to use their short-passing game as an extension of their run game. As a result, the Bears had only eight rushing attempts, the fewest in franchise history.
Asked Sunday how the offensive line felt about the strategy, coach Marc Trestman said: "Every offensive line wants to run the football. We all want to run the football. But we put game plans in to do what we think is best for the team that day against that specific team.
"They're a prideful group, but I think they understand. Certainly it didn't go the way we wanted and that's why we're working at it today. We've talked a lot about it, we're coaching through it and we're going to try to do a better job this week and on Thursday night against Dallas."
Rookie on the rise: With Lance Briggs out for the rest of the season with a groin injury, undrafted rookie Christian Jones is expected to play with the nickel defense. Jones was credited with five tackles and one quarterback hit in the Bears' Thanksgiving loss to the Lions.
"He's got a lot more experience [than early in the season] and he knows the defense and he knows what we're asking him to do," said defensive coordinator Mel Tucker.
"He's played a lot of football—a lot of snaps in practice—and so he's grown quite a bit. And he's played in a lot of games now as well. It's exciting to see a young player like that develop and grow in a short period of time like that."