INDIANAPOLIS – Bears general manager Ryan Pace explained Wednesday why the team will not place a franchise tag on receiver Alshon Jeffery for the second straight year.
"I think sometimes when you can't come to a common ground with a player and an agent, sometimes it's necessary to kind of test the market to determine that player's value, and that's really where we're at," Pace told reporters at the NFL Combine in Indianapolis.
"He's a good player and we'll see how it plays out. But I think there are certain instances where testing the market is a necessary part of the process."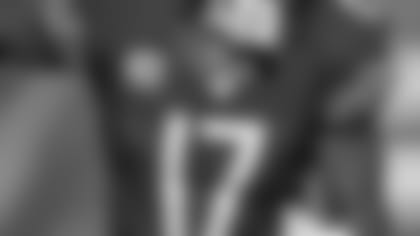 Alshon Jeffery will hit the open market when NFL free agency begins a week from Thursday.


Selected by the Bears in the second round of the 2012 draft out of South Carolina, Jeffery emerged as a star in 2013, catching 89 passes for 1,421 yards and seven touchdowns. He followed in 2014 with 85 receptions for 1,133 yards and 10 TDs.
But in 2015 Jeffery was limited to nine games due to injuries to his calf, hamstring, groin and shoulder, and his production dipped to 54 catches for 807 yards and four touchdowns.
Unable to agree on a long-term contract extension, the Bears placed their franchise tag on Jeffery last season, guaranteeing him $14.599 million. He didn't miss any action with an injury but drew a four-game suspension for violating the NFL policy on performance enhancing substances. Jeffery finished the season with 52 receptions for 821 yards and two TDs in 12 games.
Asked Wednesday to assess Jeffery's performance, coach John Fox said: "When he's been out there, I think it's been positive. Really it's just been that consistency of being out there and I'll say it's a partial evaluation and one we'll just continue evaluating moving forward."
Had the Bears placed their franchise tag on Jeffery again this year, it would have guaranteed him $17.5 million for the 2017 season. Without it, the 27-year-old will hit the open market when NFL free agency begins a week from Thursday.
"These contract negotiations can be complicated," Pace said. "We're at a point right now where this is kind of where it is. Us tagging him two years in a row really wasn't an option for us. We'll see how it plays out right now."
Pace added that the Bears are "constantly having dialogue" with Jeffery's agent and anticipates "that'll continue like it has pretty much always."
While staying involved in those discussions, the Bears also have a contingency plan should they lose Jeffery.
"Our free agent board is stacked," Pace said. "There are options in free agency. There are options in the draft. We've got to see how it plays out.
"We'll know a lot more in the coming week. A little over a week from now I'll be able to answer questions a little bit more direct with you guys. But right now that's where it's at. So we have plans in place for every one of these scenarios. I feel extremely prepared for this free agent process that we're about to enter and it gives me confidence with all these different scenarios."
It's unclear whether Jeffery will give the Bears an opportunity to match an offer he receives from another team or how much he wants to return to Chicago. One plus, however, is his familiarity with the organization.
"I'd say he knows us better than anybody else he could potentially go to," Fox said. "I think it's a positive feeling. Typically with these things, it comes down to the market value. It's like walking into a store right now at this time of year and there are no price tags. We kind of develop that moving forward. My experience has been that's a very fluid process."