After being slowed by a shoulder injury last year, new Bears receiver Markus Wheaton is eager to revert to the form he showed with the Steelers the previous two seasons.
The speedy 26-year-old caught 53 passes for 644 yards and two touchdowns in 2014 and 44 passes for 749 yards and five TDs in 2015. But a torn labrum he sustained last preseason limited him to just three games and eventually led to surgery in early December.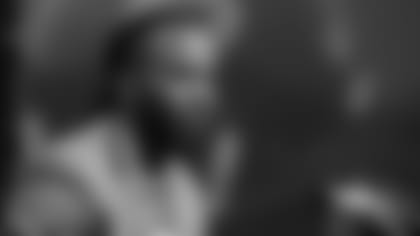 New Bears wide receiver Markus Wheaton spoke to the media Friday at Halas Hall.


"I tried to fight through it, but I couldn't," said Wheaton, who signed a two-year contact with the Bears last Friday. "I couldn't run. Not being able to do that, I couldn't get down the field. I couldn't produce. So with that being said we had to look at doing surgery."
Wheaton has since been fully cleared and is expected to participate in the Bears' offseason program, which begins April 17. The 5-11, 189-pounder intends to pick up where he left off with the Steelers in 2015 and give the Bears offense a vertical option it hasn't possessed in several seasons.
"I see myself as a deep threat that can make plays down the field," Wheaton said. "You can label it how you want to label it, but I'm here to make plays. I want to score touchdowns. I want to win games."
Bears general manager Ryan Pace has tracked Wheaton since even before he was selected by the Steelers in the third round of the 2013 draft out of Oregon State.
"I really like his makeup and his toughness going all the way back to Oregon State," Pace said. "He's a guy who can really run and gives us that element in our offense that I think that we need—speed."
Wheaton is certainly a home-run hitter, but he takes pride in being a complete receiver.
"I played a lot of slot in Pittsburgh. I was also on the outside a lot," he said. "Being here, I wouldn't want to put myself in a box and say that I'm a slot guy or outside guy. I want to do it all. Hopefully I'll have the opportunity here to move around a lot. I want to make plays. I want to finish down the field."
Wheaton revealed that the Bears' acquisition of quarterback Mike Glennon "definitely helped" convince the receiver to sign with Chicago. Wheaton was impressed with Glennon when they played together in the 2013 Senior Bowl.
"He was a hell of a leader; that's one thing I do remember about him," Wheaton said. "I'm excited to get started with him and see what we can do."
Wheaton played for Steelers teams that made the playoffs each of the last three years. But the Bears' 3-13 record last year didn't scare him away.
"I feel like in this league you can be one piece away from winning the Super Bowl, from 13-3 or 3-13," Wheaton said. "That's just my opinion. To say that it's a bad team, I don't think that it's true. I think they have a lot of good pieces. It's just about filling the holes."
Wheaton knows that transforming the Bears into a playoff contender won't be easy.
"It's a little bit of a challenge," he said. "But it's something I'm excited about. I'm sure the guys here are excited about it. We're kind of flying under the radar. The coaching staff is putting the pieces together to get back to the top. And that's something that is motivating."