Bears receiver Marquess Wilson returned to practice Wednesday for the first time since he broke his collarbone Aug. 4 while diving to try to catch a long pass in training camp.
"It felt good getting back in the swing of things and getting around the guys and actually practicing with them," Wilson said. "I felt my wind was pretty good for the most part and I'm just looking to improve each day I'm out here."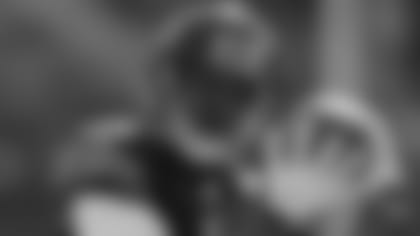 Marquess Wilson
Because Wilson practiced for the first time Wednesday while still on injured reserve with the designation to return, the Bears now have 21 days to activate him. They can put him on their 53-man roster at any time prior to 3 p.m. on Wednesday, Nov. 26. However, if Wilson is not activated by that point, he will remain on injured reserve for the rest of the season.
Coach Marc Trestman said Monday that he doesn't expect Wilson to play Sunday night in Green Bay. Asked about a timetable Wednesday, Trestman said. "It'll be day-to-day with him to see how he progresses. It'll be up to the trainers and the doctors to assess him on a daily basis.
"We're just going to go one day at a time on this making sure that he's in the physical kind of condition he needs to be in and he's taken enough reps in practice to make sure he can perform. He's got a great career ahead of him and we want to make sure we're doing the right thing."
Wilson feels that his biggest hurdle is "probably just the wind. The fear is just all mental, so once I get over that stage, it's a piece of cake. But just getting my wind back."
Before Wednesday, Wilson had been attending practice as a spectator rather than a participant.
"It was an eye-opening experience," he said. "You live and you learn. I was still around the team, so I felt like I was still part of the team. Basically, I got to watch football in a whole different perspective and really understand coverages, defenses and everything, and simple routes; different ways you can run a route or getting off press coverage or messing with the DB."
Wilson was selected by the Bears in the seventh round of the 2013 draft out of Washington State. He appeared in 10 games with one start as a rookie, catching two passes for 13 yards.
After working out in Florida with fellow receivers Brandon Marshall and Alshon Jeffery during the offseason, Wilson was performing well in training camp before he got hurt and was expected to serve as the Bears' third receiver behind Marshall and Jeffery.
Asked if he can pick up with his teammates where he left off chemistry-wise, Wilson said: "I'm not sure. I feel like I can, but I still have to prove myself all over again because I can't come in thinking that it's just mine all over. I just have to work for something I want."