The Colts played mostly single coverage against Brandon Marshall in last Sunday's season opener and dared the Bears to beat them, and they obliged in a 41-21 rout.
The Packers, on the other hand, employed a much more effective plan Thursday night at Lambeau Field, bracketing the Pro Bowl receiver with a cornerback and a safety over the top in a 23-10 victory over the Bears.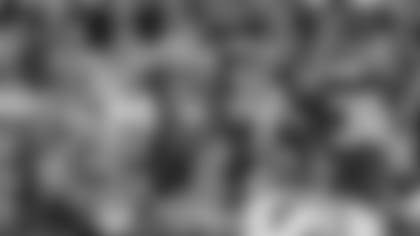 Tramon Williams intercepts a Jay Cutler  pass intended for Brandon Marshall while getting help in coverage from Charles Woodson Thursday night at Lambeau Field.

"He was the focus," said Packers coach Mike McCarthy. "I think that was definitely obvious to everybody watching the game, and I know our DBs were excited and fired up to play this game."

After catching nine passes for 119 yards and one touchdown against the Colts, Marshall was limited to two receptions for 24 yards versus the Packers. He dropped a sure touchdown pass from Jay Cutler in the end zone early in the second half and didn't catch a ball until midway through the fourth quarter when the Bears were trailing 23-3.

"They played pretty much exclusively two-man," Cutler said. "There were not a lot of holes out there. We got down early and we got in the passing game and it's tough sledding against that."

"They had a great game plan," Marshall said. "When you've got two, three guys on you at one time, it is very hard. We have to do a better job of doing other things."

Not a hobby: Cutler was sacked seven times Thursday night. Some were coverage sacks that resulted from the quarterback holding onto the ball. Others came from breakdowns on the offensive line. Left tackle J'Marcus Webb struggled at times blocking Packers outside linebacker Clay Matthews, who recorded 31/2 sacks.

Cutler made no apologies for chastising Webb after one of the sacks and yelling at members of the offensive line following a delay of game penalty.

"I care about this," Cutler said after the game. "This isn't just a hobby for me. I'm not doing this for my health. I'm trying to win football games and we're trying to get first downs. When we're not doing the little things and we're not doing things the right way consistently, I'm going to say something. If they want a quarterback that doesn't care, they can find somebody else."

Webb described the situation with Cutler as "just frustration more or less. We really had to score there so that was him just saying, 'Let's pick it up, let's get it together.'"

Lesson learned: Asked what he took away from Thursday night's loss, middle linebacker Brian Urlacher said: "Maybe we're not as good as we thought we were. We've got a long ways to go and that's obvious. Maybe Green Bay's just that good, I don't know. But we didn't play well and they played good enough to do what they did to us."

Marshall disagreed, saying: "We're definitely as good as we think we are, but offensively we have to do a better job. The defense made some great plays, gave us the ball back a few times and we need to take advantage of that and we didn't. They're a great team. They won the Super Bowl two years ago, so it's going to take more than just walking on the field to dethrone them."

Key penalty: Right tackle Gabe Carimi accepted the blame for drawing a costly 15-yard unnecessary roughness penalty. With the Bears trailing 3-0 early in the second quarter, Carimi shoved Packers linebacker A.J. Hawk after the whistle, pushing the offense back from the Green Bay 38 to the Chicago 47.

After a sack and a short completion, the Bears were forced to punt.

"That hurt the team a lot, and that is all on me," Carimi said. "It was a stupid penalty and I need to learn from my mistakes and not do that again because we had a drive going."