Bears receiver Brandon Marshall (ankle) and defensive end Jared Allen (illness) both missed practice Friday and were listed as questionable for Sunday's home game against the Packers.
Marshall initially injured his ankle in the second half of the Bears' season-opening loss to the Bills. A game-time decision the following week, he not only played against the 49ers but caught three touchdown passes. The Pro Bowl receiver then reinjured his ankle Monday night versus the Jets, missing part of the first half and finishing the game with just one reception for six yards.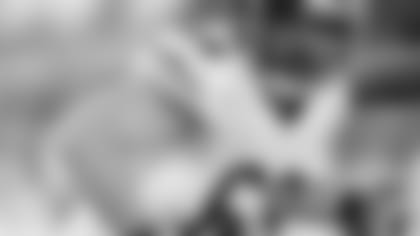 Defensive end Jared Allen hasn't missed a game due to injury since his rookie season in 2004.
"We'll talk again tomorrow and see where he is," coach Marc Trestman said Friday. "We may work him out in the morning and see how he's working tomorrow and then we'll just go from there. We'll just evaluate it the rest of the day tomorrow and try to make a decision by game time."
Marshall starred against the 49ers after sitting out practice during the week leading up to the game. But Trestman conceded that it's certainly not the ideal scenario.
"You've got to practice the game," Trestman said. "It's very difficult to be at your best when you don't practice every day. There's timing issues. There's different formations. There's different looks, so that's a challenge. You have to weigh those costs and benefits as you move through the week knowing that he may or may not play.
"So we try to work through that, and if he is going to play work hard to put him in position where the things we can give him he knows what to do and he can play at full speed."
The one positive about Marshall missing practice is that backup receivers Santonio Holmes and Josh Morgan both have been getting reps with the first-team offense.
"That can only help us," Trestman said. "You have to try to turn negatives into positives. They've gotten more work with Jay. That's certainly putting money in the bank for times down the road when situations like this will come up and they've had the work and they're more comfortable and they're more confident."
The Bears are hopeful that Allen will be able to play Sunday against the Packers and may not make that decision until just before game time.
"We'll see where he is," Trestman said. "We still have a couple more days."
Allen has made 113 consecutive starts dating back to 2007 when he sat out the first two games due to a suspension when he played for the Chiefs. Allen has missed only one game because of an injury since he entered the NFL in 2004, and that came the fourth week of his rookie season.
Five Bears players have already been ruled out of the NFC North clash: center Roberto Garza (ankle), left guard Matt Slauson (ankle), defensive tackle Jeremiah Ratliff (concussion), linebacker Shea McClellin (hand) and cornerback Sherrick McManis (quad).
Garza and Slauson haven't played since hurting their ankles in the first half of the season opener against the Bills. They will again be replaced by Brian de la Puente and Michael Ola, respectively.
In other injury news, safety Chris Conte (shoulder) was limited in practice Friday and listed as questionable on the injury report. Safety Ryan Mundy (shoulder) and defensive end Trevor Scott (foot) both worked out without restrictions are were listed as probable.
For the Packers, receiver Jarrett Boykin (knee) and linebacker Brad Jones (quad) are questionable; and linebackers Clay Matthews (groin) and Nick Perry (wrist), tackle Bryan Bulaga (knee) and cornerback Davon House (knee) are probable.