At his introductory press conference Monday, new Bears defensive end Jared Allen called Brandon Marshall and Alshon Jeffery "two of the top receivers you're going to play against."
Marshall returned the compliment Tuesday night during an appearance at the new Chicago Sports Museum, which opened Wednesday on the seventh floor of Water Tower Place.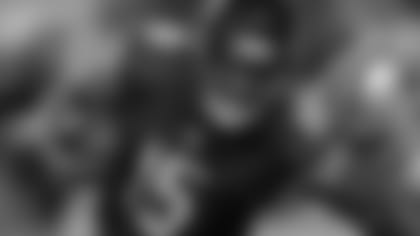 Brandon Marshall has been voted to the Pro Bowl in each of his two seasons with the Bears.
"Jared's good," Marshall told ABC 7 Chicago. "We're excited to have him. Those guys upstairs are doing a great job. Phil Emery, Cliff Stein; they're just knocking them out right now."
Allen is the 28th player the Bears have signed since the final week of the 2013 season. They've inked 13 players since the start of free agency, 12 of whom play on the defensive side of the ball.
Allen, who turns 32 Thursday, has been voted to five Pro Bowls in 10 NFL seasons with the Chiefs (2004-07) and Vikings (2008-13). He has averaged 14.5 sacks over the past seven years and his 128.5 career sacks are the most by any player since he entered the league.
Brian's song: Former Bears great Brian Urlacher also applauded the team's addition of Allen during a radio appearance Tuesday on WGWG-FM 87.7 "The Game."
"I think it's a good signing by the Bears, especially after [Julius Peppers] leaves and the problems they had getting pressure last year," Urlacher told co-hosts David Kaplan and David Haugh. "I think it'll be a great acquisition for them. He's a good guy, and he's fun to watch too."
Urlacher believes that the affable and energetic Allen will "fit right in" in the Bears locker room with veterans such as linebacker Lance Briggs and cornerback Charles Tillman.
"Lance is a boisterous guy as well," Urlacher said. "He's kind of an exciting guy too. He has a great personality. I think Jared will fit right in with Lance, and Charles is the same way; very outgoing guys, fun to be around. I think that's going to be a fun locker room to be a part of with those three guys in there, and Brandon Marshall is fun to be around as well, so I think he'll fit right in."
Looking back: Five years ago Wednesday the Bears acquired quarterback Jay Cutler and a fifth-round draft pick they used to select receiver Johnny Knox from the Broncos in exchange for quarterback Kyle Orton, two first-round picks and a third-round selection.
During an appearance Wednesday on WGWG-FM, former Bears general manager Jerry Angelo said that he would "absolutely" make the trade all over again.
"You'll never see a situation like that ever come about again," Angelo said. "You don't let a quarterback in his prime who went to a Pro Bowl where the arrow's going up out of the building. There were some circumstances that created that. So you seize the moment.
"There were a lot of teams in line trying to trade for Jay and do whatever they had to do. If the Bears didn't sign Jay [in January], there would be four or five teams standing at his doorstep ready to sign him and he probably would have made more money.
"The position speaks for itself. It's the value of what he does. He's very, very talented. We all know that. The Bears have won a lot of games with Jay. If Jay stays healthy, particularly in this kind of offense with the weapons he has, I think the sky's the limit."
Top prospect: One of Cutler's main targets thinks the sky's the limit for South Carolina defensive end Jadeveon Clowney. Jeffery expressed the utmost confidence in his former college teammate even before Clowney wowed NFL personnel with an impressive Pro Day workout Wednesday.
"He knows what he has to do," Jeffery told GoGamecocks.com. "He's going to be a great player. He's going to dominate the league, and he's going to be a Hall of Famer."