During his weekly appearance on Showtime's "Inside the NFL" Tuesday, Brandon Marshall called Sunday night's 55-14 disaster in Green Bay "one of the most demoralizing games I've been in."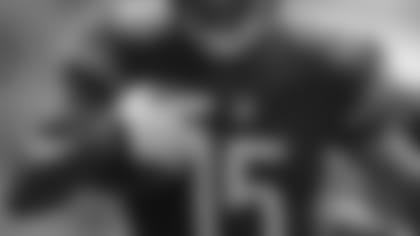 Brandon Marshall
Aaron Rodgers tied an NFL record by throwing six touchdown passes in the first half as the Packers raced to a 42-0 halftime lead, the second largest halftime margin in NFL history.
"I'm at a loss for words," said the Bears receiver. "I think everyone is at this point. … When adversity hits, what type of person are you going to be? Are you going to give up or are you going to fight? And that's where we are at right now. … Life is tough right now. Walking outside, going to the grocery stores, looking at the fans in the eyes. This is bad all around."
In losing their last three games to fall to 3-6, the Bears have been outscored in the first half 94-7. They also became the second NFL team and first since the Rochester Jeffersons in 1923 to allow at least 50 points in back-to-back contests.
"Confidence is everything," Marshall said. "It doesn't matter if you are in professional sports, or if you are the CEO, or if you are a teacher, or if you are starting a new company. Confidence is everything. And when you lose your confidence, it's over. You don't have a chance. And right now, that's where we are at.
"It all starts with confidence.  When you are looking at 3-6, there's not much hope. There's not much confidence. That's just the reality of this. It has nothing to do with the Chicago Bears. It's just the reality of life."
Marshall did deliver some good news, saying that he expects to be able to play Sunday when the Bears host the Vikings despite suffering a sprained ankle against the Packers.