Brandon Marshall believes that the sky is the limit for longtime teammate Jay Cutler.
Asked by Pro Football Hall of Famer Michael Irvin what Cutler could accomplish this season if he's able to start all 16 games, Marshall responded by saying "MVP in the league." Irvin was at Bears training camp Wednesday to do a feature on the team's receivers for NFL Network.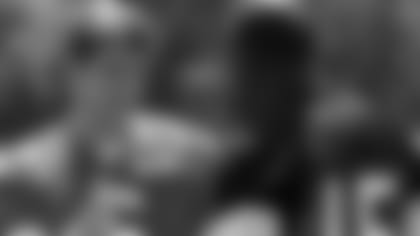 Jay Cutler and Brandon Marshall chat during practice.
Later in the day, Marshall told reporters that Cutler "absolutely" could win the MVP award.
"With coach [Marc] Trestman and [coordinator Aaron] Kromer and our offense … our offensive linemen are studs—they work together—and we have a special group at the skill positions with Matt Forte, Alshon [Jeffery], Martellus [Bennett] and Q [Marquess Wilson]," Marshall said. "I think absolutely [Cutler could win the award]."
Marshall and Cutler entered the NFL together in 2006 as draft picks with the Broncos. The Pro Bowl receiver said the difference in Cutler from then to now is "night and day."
"He's a totally different person, he's a totally different athlete," Marshall said. "He's the first one in the building, and that [stinks] because I try to be the first one in the building. He's there at like 5 a.m. He lives it. I think he has a great balance to his life now with his personal stuff. I won't go there; he hates when people go there with his personal stuff. I love him and I love catching balls, so let's just keep it [at that]."
Marshall considers Irvin a mentor and was happy to receive some pointers from the former Cowboys star after practice.
"You see the journey he's been on and see where he's at today, that's a lot of inspiration there," Marshall said. "He inspires a lot of people, especially kids like myself. Whenever I get a chance to be around him, I take advantage of it. There are times I just reach out to ask a question or two.
"Michael is a technician. He's on another level. He counts steps of the DB, he pays attention to their hips and their feet, like what foot is up. It's some advanced stuff. I don't even know how he was thinking of these things back when he was playing. He teaches me how to use my body because he was a big receiver and he understands it. I learn a lot from him."
Extra work: Rookie defensive tackles Ego Ferguson and Will Sutton remained on the field
honing their skills long after practice had ended Wednesday.
"I think that's a personal thing, a thing that they're doing but they're also doing it with the encouragement of their coaches," Trestman said.
Ferguson and Sutton aren't the only Bears players getting in extra work.
"We start practice at 8:30 and most of the team is out here at about five after eight," Trestman said. "Guys are getting catches, working with their hands, working on their footwork. They're spending as much time out here as they can because, as we've said, with the new CBA this time is precious.
"There's only so much time we have to learn and get ready for the season. Our guys are really trying to make the most of it. I think that's what it says; we're trying to make the most of each and every day."
Sights seen: Jeffery returned to practice Wednesday after sitting out with a sore foot Monday and provided the offensive highlight by catching a long pass from Cutler down the right sideline in a two-minute drill, beating rookie cornerback Kyle Fuller. … Earlier in practice, Marshall made a nifty move by spinning away from Fuller and sprinting down the sideline. … Newly-signed receiver Dale Moss made a nice catch down the middle despite getting rocked by linebacker DeDe Latimore. … The crowd at practice on "Ladies Day" Wednesday was estimated at 10,500.