Reunited after three seasons apart, Jay Cutler and Brandon Marshall have picked up this year where they left off in Denver. As Broncos teammates from 2006-08, they developed into Pro Bowlers and formed a close bond.
"I would have liked to have had him those three years," Cutler said Tuesday. "But getting him back, it's been fun. He's a heck of a player. He's doing some really good things. There are some details that me and him can clean up and become even better. We've talked about it this week and hopefully it carries over."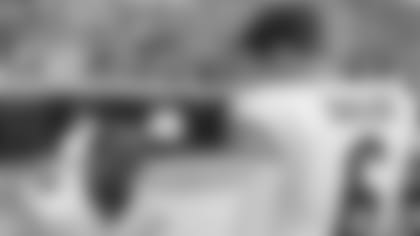 Brandon Marshall and Jay Cutler share a laugh after connecting for a 24-yard TD pass in Jacksonville.

In back-to-back road wins over the Cowboys and Jaguars, Marshall has caught 19 passes for 282 yards and two touchdowns from Cutler.

The three-time Pro Bowler became the first Bears receiver to compile 100 yards in back-to-back games since Marcus Robinson in 1999. Marshall surpassed the century mark in the second half of both games with 107 yards against the Cowboys and 100 yards versus the Jaguars.

Marshall's 12 receptions Sunday were the third most in his seven-year NFL career and the most by a Bears player since Marty Booker also had 12 exactly 10 years earlier on Oct. 7, 2002 in a 34-21 loss to the Packers in Champaign.

With 35 receptions for 496 yards in five games, Marshall is on pace to shatter single-season Bears records with 112 catches and 1,587 yards. He currently ranks fourth in the NFL in receiving yards, seventh in receptions and is tied for second with 11 catches on third down.

Health update: It's unclear how long rookie receiver Alshon Jeffery will be sidelined with the hand injury that knocked him out of Sunday's win over the Jaguars.

"It's tough, but we know we're going to get him back," said coach Lovie Smith. "Injuries are part of it. I'm not going to go into how long, but he'll be back out there before we know it."

After this weekend's bye, receiver Earl Bennett is expected to be able to play against the Lions Oct. 22 on Monday Night Football after missing the last two games with a hand injury.

"This is the NFL and as you well know we have injuries," said offensive coordinator Mike Tice. "[Jeffery's injury] is one that's too bad because he was starting to come on. [There is a] great rapport between him and Jay, but now we hopefully can get Earl back and just keep going."

Stepping up: After not catching a pass in back-to-back games against the Packers and Rams, Devin Hester has five receptions for 87 yards in the last two contests versus the Cowboys and Jaguars.

Hester has produced the Bears' longest receptions in both of those games, making diving catches for a 34-yard touchdown in Dallas and a 39-yard gain in Jacksonville.

"We're putting him in spots to be successful," Cutler said. "When we put him in there, we've got to be creative [and] find ways to get him the ball because when he has the ball ... he makes things happen. We've just got to keep getting better and better at that, and he's got to get excited about it."

Roster move: The Bears made a move on their practice squad Tuesday, signing receiver Kamar Aiken and terminating the contract of fullback Harvey Unga.

Aiken entered the NFL with the Bills in 2011 as an undrafted free agent from Central Florida. He appeared in two games with Buffalo last season, but did not catch a pass. The 6-2, 213-pounder spent parts of the 2011 and 2012 seasons on the Bills' practice squad.