In Sunday's season opener at Soldier Field, Brandon Marshall performed exactly like the player the Bears envisioned when they traded for the three-time Pro Bowler in March.
Marshall caught nine passes for 119 yards and one touchdown in a 41-21 romp over the Indianapolis Colts, marking the 20th time he has topped 100 yards in his seven-year NFL career. The all-time leader in Bears history, Harlon Hill, has 19 100-yard games.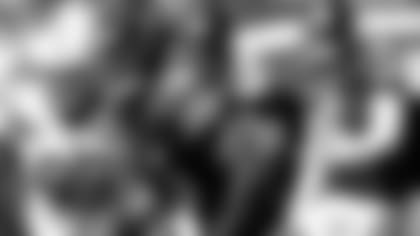 Brandon Marshall caught nine passes for 119 yards in Sunday's win over the Colts.
"He's a playmaker," receiver Devin Hester said of Marshall. "He's been a playmaker since he stepped into the league and he continued to put on a great performance."
Marshall's three-yard touchdown reception from quarterback Jay Cutler gave the Bears a 14-7 lead early in the second quarter.
"It was really good," Marshall said. "We took what they gave us, so it felt good to get that first one out of the way. We definitely left some out there, so hopefully we can capitalize on that in the future."
A jump start: After the Bears offense got off to a slow start, running back Matt Forte provided a spark with rushes of 32 and 15 yards, setting up Michael Bush's 1-yard TD burst.
"We know that to get the game really started, to get the jitters out, you've got to run the ball," said Forte, who rushed for 80 yards on 16 carries. "That lets the linemen come off. They don't have to try to block somebody back-pedaling. So if you can run the ball effectively, that kind of jump-starts the offense and we can get moving after that."
No limitations: Bush provided a strong complement to Forte, rushing for 42 yards on 12 carries including two 1-yard TDs in the first half.
"Mike can do it all as well," Forte said. "He can catch the ball on third down. There are no limitations when I come out of the game. It's not like if I come out on third down that he can't do the same thing. He can block just as good and catch the ball out of the backfield."
Going deep: The Bears were already leading 34-21 midway through the fourth quarter when Cutler rainbowed a 42-yard touchdown pass to rookie receiver Alshon Jeffery deep down the middle.
"We just had to take what they were giving us," Forte said. "We were trying to run the ball and run the clock out. They were stacking the box, so play-action, go over the top and it was wide open. You've just got to take what's given you."
Under the radar: Receiver Earl Bennett caught three passes for 50 yards, all in the first half. He sustained two touchdown drives with catches of 10 yards on third-and-four and 15 yards on third-and-15, and set up a third TD with a 25-yard reception to the Colts' 1-yard line.
"Earl's just a football player," Cutler said. "I love playing with him. As long as I'm a Bear, I hope Earl's here with me because he brings so much to this team on and off [the field]. He's the kind of guy that flies under the radar, but whenever he has an opportunity he makes the most of it."