GLENDALE, Ariz. — Brandon Marshall broke another record, but the Bears star receiver wasn't very pleased with his performance in Sunday's crucial 28-13 win over the Arizona Cardinals.
Marshall had six receptions for 68 yards, including a 15-yard touchdown. But he was disappointed with how he played while matched up in single coverage with cornerback Patrick Peterson.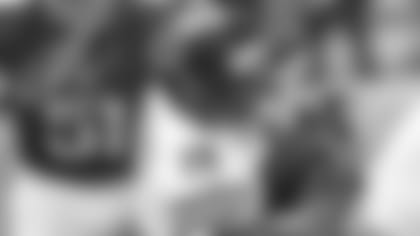 Brandon Marshall gets tackled by Patrick Peterson during Sunday's 28-13 win over the Cardinals.
"I stunk up the field," Marshall said. "Throwing around that word accountability, I can't do that, especially in this situation, this part of the season. For the defense to step up, for other guys to step up on the offense, that says a lot. I'm proud that guys were able to make big plays."
With his first catch of the game, a 30-yarder early in the second quarter that set up the Bears' first TD, Marshall set a franchise record for receiving yards in a season. But he was upset about dropping a slant pass and failing to haul in a long throw from Jay Cutler down the left sideline.
"I actually went to Jay and apologized and said, 'I'll make the play for you next time. Don't give up on me,'" said Marshall, who now has 113 receptions for 1,466 yards and 11 TDs this season.
"[Peterson] is a great player, but I'm disappointed in my play today. When you get an opportunity to get one-on-one you have to dominate. I was looking forward to this match-up and dropping that ball, that slant, and having the opportunity down the sideline, I've got to make those plays.
"As a competitor, there are games within games. I don't know the next opportunity I'm going to get against Pat. He's a great player, but I left way too many plays out there. I'm disappointed in that. But when you get a win and you look at where we're sitting right now, it definitely overcomes what I was doing on the field."
The Bears' passing game struggled before Cutler engineered a six-play, 80-yard touchdown drive late in the first half. The veteran quarterback completed 5 of 5 passes for 76 yards, including a 15-yard TD to a wide open Marshall in the right corner of the end zone.
"That's Jay," Marshall said. "I don't know what it is about him. He called that route. I'm looking at Patrick Peterson tell the safety 'I'm going to jump the slant, so please get over the top basically.' I guess Jay knew he was going to jump it. He called the option to that and I was in the back of the end zone wide open."
Cutler rebounded after going 0-of-6 in the first quarter. Asked whether he was aware he hadn't completed a pass in the first 15 minutes, Cutler said: "I was aware it wasn't pretty.
"I know balls were hitting the ground. [But] you can't really worry about it. That's why I like playing with these guys. We were struggling, but when we got in the two-minute situation, guys were still working to get open and made some great catches for me.
"It wasn't the best game. It wasn't a pretty game. But we got done what we had to get done."