Bears Pro Bowl receiver Brandon Marshall displayed his playmaking ability in Thursday's practice, making several nifty catches in 7-on-7 and 11-on-11 drills.
Marshall reached high to haul in a touchdown pass from Jay Cutler in the back of the end zone during a red zone drill, tiptoed along the left sideline to make another catch, and held onto a pass over the middle with nickel back Kelvin Hayden draped all over him.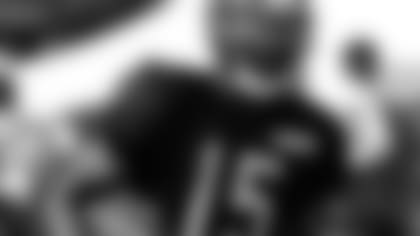 Brandon Marshall
Fellow receiver Alshon Jeffery also made an excellent play, leaping high to snatch a jump ball from Cutler in the end zone between safeties Danny McCray and Ryan Mundy.
For the second straight practice, McCray joined Mundy with the No. 1 defense in place of rookie fourth-round pick Brock Vereen. On Wednesday, coach Marc Trestman cautioned against reading too much into the move given the open competition and ongoing evaluation at safety.
Standing in his own end zone, rookie sixth-round draft pick Pat O'Donnell rocketed a punt about 70 yards off his right foot with the ball landing close to the 30-yard line.
The Bears defense forced three fumbles in Thursday's practice via strips by cornerback Charles Tillman, nickel back Isaiah Frey and rookie safety Marcus Trice.
Defensive linemen Willie Young, Lamarr Houston, Stephen Paea and Trevor Scott all recorded what would have been sacks in 11-on-11 drills. Defensive end Jared Allen made a nice play to snuff out a pitch to running back Shaun Draughn.
Recently-retired long-snapper Patrick Mannelly attended Thursday's practice. Five other former Bears were on hand: Assistant coaches Jon Hoke and Chris Harris, radio analyst Tom Thayer, associate director of pro personnel Dwayne Joseph and director of player engagement Terry Cousin.
Roster moves: The Bears on Thursday signed tackle Dennis Roland and offensive lineman Graham Pocic to one-year contracts and waived tackle Cody Booth and receiver Terrence Toliver with an injury settlement.
Roland has appeared in 71 games with 30 starts in eight NFL seasons with the Buccaneers (2006-07) and Bengals (2008-13). His father, Dennis Roland, Sr., was head football coach at Olivet Nazarene University—where the Bears hold training camp—from 1986-90. The elder Roland passed away on Jan. 1, 2008 due to cancer at the age of 51.
Pocic entered the NFL with the Rams in 2013 as an undrafted free agent out of Illinois. The Chicago area native attended Lemont High School. He appeared in 46 games in four seasons at Illinois, starting 34 games at center and two at right tackle.