MINNEAPOLIS — Brandon Marshall continued his remarkable season Sunday in Minnesota, catching 10 more passes for 160 yards and one touchdown in a 21-14 loss to the Vikings.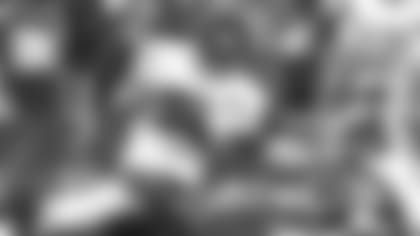 Brandon Marshall soars to catch a pass along the sideline in Sunday's loss.

In nearly duplicating his stat line from a week earlier when he had 10 receptions for 165 yards in an overtime defeat to the Seahawks, Marshall broke the Bears' single-season record for catches. Marshall now has 101 receptions, eclipsing Marty Booker's mark of 100 set in 2001.

Rookie Alshon Jeffery also made an impact in his return to the lineup Sunday. After missing six of the previous seven games with hand and knee injuries, the second-round pick from South Carolina had three receptions for 57 yards including a 23-yard touchdown.

Marshall set up Jeffery's TD with a 12-yard catch on third-and-three on the previous play, and later scored the Bears' second touchdown on a 16-yard pass from backup quarterback Jason Campbell.

While Marshall and Jeffery generally performed well against the Vikings, the Bears were plagued by dropped passes. Two came on back-to-back plays at a crucial point late in the game.

With 4:37 remaining and the Bears trailing 21-7, they faced third-and-six from the Minnesota 23. Jay Cutler stepped up in the pocket and threw over the middle to a wide open Devin Hester, who dropped the ball. On fourth-and-six, Marshall followed with a drop on a slant, although he was tightly guarded.

Cutler then exited with a stiff neck, having completed 22 of 44 passes for 260 yards with one touchdown, two interceptions and a 57.0 passer rating while being sacked twice.

"I thought he fought until the end," said coach Lovie Smith. "We'd like to have a couple of those throws back. But Jay's going to play like that always. We know what we're going to get from him. I thought the protection was OK for the most part, but it could have been a little bit better."

Jeffery and tight end Kellen Davis also dropped passes. But when Cutler was asked whether dropped passes were a problem, he declined to blame his teammates.

"There were a lot of problems offensively," Cutler said. "I didn't play well. You've got to start with me offensively. Interceptions, however they happened, they happened. We've just got to be better."