Judging by the smile on his face, Bears receiver Brandon Marshall couldn't have been happier after meeting new head coach Marc Trestman for the first time Thursday at Halas Hall.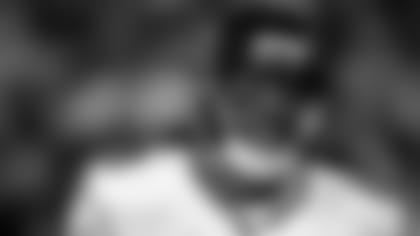 Receiver Brandon Marshall rewrote the Bears record book in 2012, catching 118 passes for 1,508 yards.
"I honestly can tell you the excitement just by sitting down with him for 10 minutes just went through the roof," Marshall said. "He's innovative. He cares about the player and the person, so that's a win-win. I think he's the piece that we need to bring this whole thing together."
Trestman joined the Bears after spending 17 seasons as an NFL offensive coordinator and position coach and the last five years as head coach of the CFL's Montreal Alouettes.
The 57-year-old is known for his ability to develop quarterbacks. Under his tutelage, Steve Young helped the 49ers top the NFL in scoring and passing yards in 1995, and Rich Gannon was named NFL MVP while leading the Raiders to the Super Bowl in 2002.
Trestman guided the Alouettes to back-to-back Grey Cup titles in 2009 and 2010, while Montreal quarterback Anthony Calvillo was named the CFL's most outstanding player in 2008 and 2009.
"Just talking to him on the phone and meeting with him in person, you can see how deep he is," Marshall said. "It almost reminds me of a philosopher. I've heard a lot about how innovative he is, and I'm excited to see our game plans, our approach to practice and his approach to preparing us. I think it's going to be a great fit and a winning formula."
Marshall has total faith in the decision by general manager Phil Emery to hire Trestman, and why wouldn't he? After all, it was Emery who shrewdly traded a pair of third-round draft picks to the Miami Dolphins in exchange for the Pro Bowl receiver last March.
In his first season with the Bears, Marshall set franchise records and established career highs with 118 receptions and 1,508 yards while catching 11 touchdown passes.
"Well, he got me here, and I'm happy and very humbled to have the opportunity to be a Bear," Marshall said. "I never thought it would happen. I never talked to anybody about getting it done. For him to come in and be bold enough to bring me in and believe in me, it's just been a great fit.
"And then you see some of the other things he's been able to do and see how he goes about it, his due diligence, it's great. So I'm excited about the direction we're headed in as an organization."
One of the moves Emery made in his first year as general manager was trading up in the second round of the draft to select receiver Alshon Jeffery. The former South Carolina star showed flashes while fighting through injuries as a rookie, catching 24 passes for 367 yards and three touchdowns.
Marshall intends to take the young receiver under his wing, revealing that he and Jeffery will begin working out together in Florida on Monday.
"He's willing to work," Marshall said. "He wants to be great. But sometimes you need to be shown the ins and outs of the business; how to eat nutritionally, and how to take care of your body [in terms of] seeing chiropractors and massage therapists, and stretching.
"There's never an offseason in football, so you can't wait until you get here in April and think that you're going to catch up. There's always someone outworking you or trying to outwork you. Just showing him how to prepare in the offseason, I think he'll benefit from it and learn a lot."