Bears Pro Bowl receiver Brandon Marshall was excused from practice Wednesday and won't return to the team until Sunday.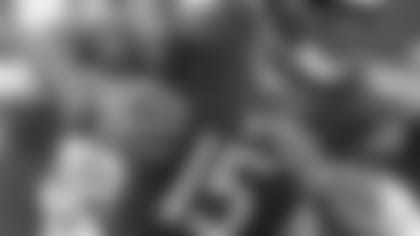 Pro Bowl receiver Brandon Marshall is slated to return to the Bears on Sunday.
"This was a planned-out miss today for personal reasons," said coach Marc Trestman. "We wanted to get him through practice, and I let him go for personal reasons, for something that's been part of the offseason plan since we started training camp."

Marshall will not attend Thursday night's preseason finale against the Cleveland Browns at Soldier Field, but he wouldn't have played anyway given that the Bears are resting most if not all of their starters. The team will gather to lift weights Friday, but is not slated to practice again until Monday.

On Tuesday, Marshall told reporters following practice that he is not where he wants to be in terms of his conditioning after undergoing arthroscopic hip surgery in January.

Asked whether Marshall's absence is related to his hip, Trestman said: "I'd rather just leave it to personal reasons out of respect to Brandon, but it's all good. As I've said when I've let guys go for personal reasons, I've said it's all good and this one is all good. It's not reflective of anything other than I gave him time off. He won't be there [Thursday]; he'll be back on Sunday."

Marshall also expressed uncertainty about his role in the Bears offense during his media session. But Trestman insisted that he is not concerned about the receiver's comments.

"Not at all," Trestman said. "We've given a lot to our guys offensively. He had a very good practice on Tuesday. He ran well, he ran his routes, he took his reps, he finished. I can't speak for his comments. What I saw on the field was a guy getting ready to play, and as I said this was planned and for personal reasons and he'll be back on Sunday."

On his Twitter account Wednesday, Marshall wrote: "Relax. Relax. Injuries are a part of the game. Playing at a high level isn't easy, so getting back there can be frustrating at times."

The Bears receiver encouraged fans to submit questions to him. Asked if he will play in the season opener, he wrote: "Yes." Asked about his hip, he replied: "Hip is structurally great. All about recovery."