One day after signing a three-year extension, receiver Brandon Marshall expressed his gratitude to the Bears and their owners for acquiring him in 2012 and rewarding him with a new contract.
"It feels awesome," Marshall said Tuesday during an appearance on "The Carmen and Jurko Show" on ESPN 1000. "Like I said [Monday], I finally found a home. It's great.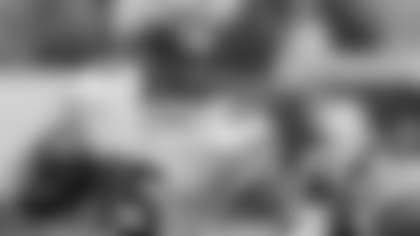 Brandon Marshall's 218 receptions in two seasons with the Bears are the second most in the NFL.
"This is a great city to be in, a great franchise to play for, so thankful for the McCaskeys for No. 1 going out on a limb and trading for me when I had so much baggage and, two, just stepping up to the plate and extending the contract and potentially retiring me a Bear."
Since being acquired in a trade with the Dolphins, Marshall has been voted to the Pro Bowl in each of his two seasons with the Bears. After setting team records with 118 receptions and 1,508 yards in 2012, he compiled 100 receptions for 1,295 yards and 12 TDs last year.
In the process, Marshall became the first receiver in franchise history to post multiple 100-catch seasons and his 12 TDs were the most by a Bears player since Curtis Conway also had 12 in 1995.
Marshall's three-year extension runs through the 2017 season. He will be 34 years old at that point, but he said Tuesday he'd like to play two additional years beyond that until he's 36.
"They're going to have to rip the jersey off my back," Marshall said. "Coming in I've always said that I want to play 14 years. That was my goal. I'm trying to pass Cris Carter in everything. I don't think I have it in me to go for Jerry [Rice]. That's 20 years I would have to play. Maybe with modern medicine and all this new technology I could potentially play that long. But I've had three hip surgeries. I'm just asking for six [more] years."
Marshall discussed a variety of different topics on ESPN 1000.
On the moves the Bears have made in free agency and the draft to bolster their defense:
"[General manager] Phil Emery and all the guys upstairs, they've done an amazing job, not just this year but last year. You go back to what they've done on the offensive side, how they revamped the offensive line in just one draft and one free agency and now they're doing the same on the defensive side."
On the Bears entering their second year in Marc Trestman's offense:
"Any group that can play together for a few years, it's good. So it's going to be awesome to see us grow because of the experience and the time that we're able to put in throughout the offseason."
On having several Bears teammates visit his home in Florida to work out and do team-bonding activities such as paintballing, pottery and go-cart racing:
"It was great. I think that's the way to win in modern sports. It's not really what you do on the field or during the season. It's what you do off the field away from the sport. We're not talking about the training in the offseason. We're talking about getting together and building that chemistry and building authentic relationships."