Bears receiver Brandon Marshall put on another clinic Sunday at Soldier Field, tying a season high with 12 receptions for 92 yards in a 28-10 win over the Minnesota Vikings.
"He played great," said quarterback Jay Cutler, who returned after missing last Monday night's game in San Francisco with a concussion. "He's a guy I can count on in about every situation, and that's why we brought him here."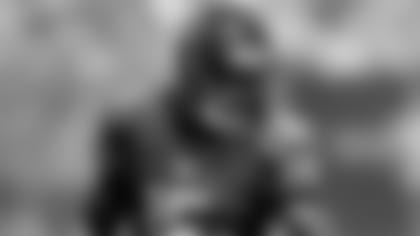 Brandon Marshall became the first Bears receiver to surpass 1,000 yards in a season since Marty Booker in 2002.
Several of Marshall's catches Sunday came when he used his 6-5, 230-pound frame to shield defenders from the ball, often boxing them out as if he was rebounding a basketball.

"I'm not the fastest guy," Marshall said. "I don't jump the highest. One of the things my father taught me was how to use my body and be crafty. I don't run the best routes, but I'm really confident and put myself in the position where I can be quarterback friendly.

"Jay and I just see the game together the right way, and I'm just happy to be with a quarterback that really understands the way I play the game."

Marshall increased his season total to 1,017 yards Sunday, becoming the first Bears receiver to surpass 1,000 yards since Marty Booker had 1,189 in 2002.

"I definitely take pride in it," said Marshall, who has now accomplished the feat in each of the last six seasons. "There is a great quote out there that says, 'don't confuse activity with production.' You have to be productive in anything you do in life. This is what I do now for a living.

"With that being said, I hope that this is the last place that I catch 1,000 yards. I'm really proud to be a Bear, and when I look back on my legacy as a football player, I want it to be as a Bear. This is a great opportunity for me, my family, and I just need to continue to work."

Big back: Michael Bush scored the Bears' first two touchdowns on one-yard runs. The 6-1, 245-pounder also picked up first downs on all three of his carries on third-and-one and fourth-and-one. Bush led the Bears in rushing with a season-high 60 yards on 21 carries.

"He's a good player," said coach Lovie Smith. "He's got good size. He's got a little weight behind him and that's what we brought Michael here for. A guy that size with his pads down, there's a chance we're going to have success with him."

More like it: The Bears defense reverted to form Sunday, generating three takeaways after not producing any for the first time this season in last Monday night's loss to the 49ers.

"In order for us to win, that's a base part," Smith said. "It's not a good defensive game unless we're able to take the ball away, and we got back on track today."

Nick Roach forced an Adrian Peterson fumble that Charles Tillman recovered, Chris Conte intercepted a Christian Ponder pass, and Major Wright recovered a Peterson fumble. The Bears now lead the NFL with 33 takeaways.

"When the ball's on the ground, we pick it up and run with it," said middle linebacker Brian Urlacher. "In practice, if we get a pass we try to score with it."

One-liners: Rookie receiver Alshon Jeffery sat out Sunday's game following arthroscopic knee surgery. He's expected to miss 2-4 weeks. ... Julius Peppers recorded the 12th blocked kick of his career when he deflected Blair Walsh's 30-yard field goal attempt in the second quarter. ... The Bears' six-game winning streak against the Vikings is their longest versus any team.