Brandon Marshall's belief that he and Alshon Jeffery comprise the NFL's top receiving tandem is more than just one man's admittedly biased opinion. It's also a fact, at least statistically.
Marshall and Jeffery have combined for 1,521 yards this season, the most by two NFL teammates. Broncos receivers Demaryius Thomas and Eric Decker are second with 1,514.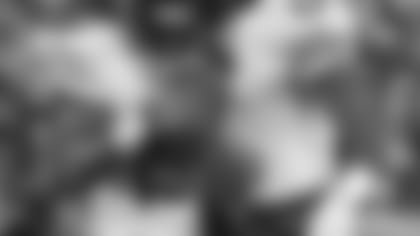 Brandon Marshall celebrates with Alshon Jeffery after catching a 23-yard touchdown pass in a Nov. 4 win over the Packers.
"Numbers don't lie," Marshall said. "We're definitely the No. 1 tandem in the league right now, and that's something I take a lot of pride in. Before, I was trying to be the best wide receiver in the league. Now my sole focus is on building this dynamic tandem that's hard to stop."
Since being acquired by the Bears in a trade with the Dolphins last year, Marshall leads the NFL with 178 receptions, is tied for second with 19 touchdowns and ranks fourth with 2,294 yards.
Last season he shattered team receiving records with 118 catches and 1,508 yards. But no other Bears wide receiver had more than 29 receptions. Marshall is once again the team's leading receiver this year with 60 catches for 786 yards and 8 TDs. But opposing defenses have also had to deal with an emerging Jeffery, who has 47 receptions for 735 yards and three TDs.
"It's better for our offense," Marshall said. "If they're going to double me, Alshon's going to get one-on-one [coverage], or Martellus [Bennett], or vice versa. Now you're starting to see teams really play us one-on-one and head up, and it just opens up everything across the board."
Jeffery's breakout season is coming after he spent the offseason training with Marshall in Florida.
"The best part of what you're seeing in Alshon is how much Brandon has had to do with his growth, from his offseason work to teaching him how to train and take care of his body," said coach Marc Trestman. "Brandon is one of Alshon's biggest supporters in all this and in the process.
"[Jeffery] is a terrific receiver. The fact that he's with Brandon helps our football team tremendously because obviously [defenses] can't focus strictly on Brandon. It allows us to be and will allow us to be a better offense as we get down the road."
Offensive coordinator Aaron Kromer has been impressed with Jeffery's drive and determination.
"Alshon has been very productive for us," Kromer said. "He's productive every time he walks on the grass. Whether it's practice, walk-through, his footwork is right, his depth is right and his demeanor is right. He runs the right routes. When you have a guy like that, others follow."
Defenses have started to take notice of Jeffery, who has recorded over 100 yards receiving in four of the Bears' last six games, including a franchise-record 218 yards in a loss to the Saints.
"These past few games we're starting to see teams really just playing us straight up," Marshall said. "Less doubles, less brackets, and now we're starting to see teams really start to roll over Alshon's way. It's pretty cool to see and it makes my job a lot easier.
"A couple of weeks ago [defenses] were just trying to take me out of the game, depending upon who we were playing, and it was frustrating. But now that Alshon's stepping up and really balling, it's making it easier for me on my side, it's making it easier for Matt [Forte] and the running game and Martellus is helping us out a bunch.
"That's one of the reasons why it was important for us to get together this offseason, to really work on him staying healthy, him staying strong, and fine-tuning the little things. It's a testament to his preparation this offseason."