The following is the third of nine position reviews of the 2013 season.*
Just like their teammates at quarterback and running back, the 2013 season was a highly productive one for Bears wide receivers Brandon Marshall and Alshon Jeffery.
The duo became the first receivers in franchise history to both be selected to the Pro Bowl in the same year. A total of only two Bears receivers had been voted to the all-star game over the previous 41 seasons—Marty Booker in 2002 and Marshall in 2012.
Running backs

In becoming the first Bears receivers to each top 1,100 yards in a season, Jeffery (1,421) and Marshall (1,295) combined for 2,716 yards, just two yards behind the Broncos' Demaryius Thomas and Eric Decker for the most by two teammates in the NFL.
Marshall ranked fifth in the NFL with 100 receptions and caught a team-high 12 touchdown passes, the most by a Bears player since Curtis Conway also had 12 in 1995.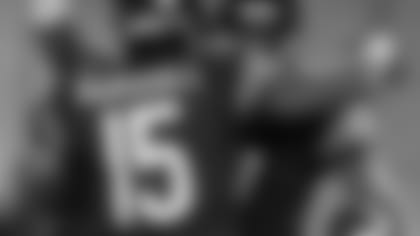 Alshon Jeffery celebrates with Brandon Marshall after catching a TD pass in a win over the Cowboys.
After setting Bears records and career highs with 118 receptions and 1,508 yards in 2012, Marshall became the franchise's first player with multiple 100-catch seasons. In two years in Chicago, he ranks second in the NFL with 218 receptions, fourth with 2,803 yards and fifth with 23 TDs.
After catching 24 passes for 367 yards and three TDs in 10 games as a rookie in 2012, Jeffery had a breakout 2013 season. He ranked sixth in the NFL among receivers with 1,421 yards, the second most in franchise history, and was 10th with 89 receptions, the sixth most ever by a Bears player.
Jeffery recorded the two most prolific receiving games in Bears history in 2013 with 249 yards against the Vikings and 218 yards versus the Saints. The previous single-game record of 214 yards by Harlon Hill had stood since 1954. In the process, Jeffery became one of only eight players in NFL history to produce two 200-yard games in the same season.
"We saw this in practice," coach Marc Trestman said late in the season. "We saw his work ethic and we saw him making plays in practice, [but] you never really know. You're not tackling in practice. You're in shorts most of the time. You don't know that this is going to happen.
"You don't really envision it. You hope that players like that will carry what they do in practice out on the field because that's where you really find out and that's what he's done. There were no predictions here or no envisioning of how it would be.
"I'm sure he had a vision of how it would be and that's the most important thing in what he was going to do when he got on the field. But we just went at it to allow him to do the things in the game that he's done in practice, and that's what we try to do each week."
Jeffery made spectacular touchdown catches in three straight games late in the season against the Vikings, Cowboys and Browns. His 45-yard TD on a jump ball between two defenders in Cleveland helped give the Bears a crucial 38-31 win that put them in control of their own playoff destiny.
The 2012 second-round pick from South Carolina also set a Bears record for rushing yards by a receiver with 105.
"He has a confidence about himself," Marshall said late in the season. "I remember last year, we sat down and talked about goals at the beginning of the season and his goal was to make the Pro Bowl as a rookie. Some older guys would look at that kid like 'you're ridiculous.' I looked at it and I said, 'Hey, I've got that same attitude.' You've got to dream big. If you don't believe in yourself, nobody will. I respected him a lot for that."
The only other Bears receiver who caught more than two passes in 2013 was Earl Bennett, who had 32 receptions for 243 yards and four TDs. Bennett's most productive outing came in a Week 12 loss in St. Louis when he caught eight passes for 58 yards. Late in the season, Bennett had key TD receptions in back-to-back wins over the Cowboys and Browns.