In an "Around the League" feature posted this week, NFL.com analyst Chris Wesseling selects the Bears' Brandon Marshall and Alshon Jeffery as the best wide receiver tandem in the NFL.
"A prototypical go-to target on third downs in the red zone, Marshall is among the NFL's top handful of receivers from the past decade," Wesseling writes. "He was outplayed at times last season by Jeffery, who was a big-play machine en route to finishing second among NFL receivers with 1,521 yards from scrimmage."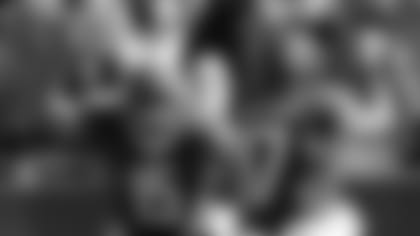 Bears receiver Alshon Jeffery celebrates a TD reception with teammate Brandon Marshall.
Wesseling ranks the Falcons' Julio Jones and Roddy White second, followed by the Lions' Calvin Johnson and Golden Tate third and the Packers' Jordy Nelson and Randall Cobb fourth. Interestingly, three of the top four duos are in the NFC North.
Last year Jeffery (1,421) and Marshall (1,295) became the first Bears receivers to each top 1,100 yards in a season. In combining for 2,716 yards, they finished just two yards behind the Broncos' Demaryius Thomas and Eric Decker for the most by two teammates in the NFL.
Marshall and Jeffery became the first receivers in Bears history to both be selected to the Pro Bowl in the same year. A total of only two Bears receivers had been voted to the all-star game over the previous 41 seasons-Marty Booker in 2002 and Marshall in 2012.
Marshall ranked fifth in the NFL with 100 receptions and caught a team-high 12 touchdown passes, the most by a Bears player since Curtis Conway also had 12 in 1995.
After setting Bears records and career highs with 118 receptions and 1,508 yards in 2012, Marshall became the franchise's first player with multiple 100-catch seasons. In two years in Chicago, he ranks second in the NFL with 218 receptions, fourth with 2,803 yards and fifth with 23 TDs.
After catching 24 passes for 367 yards and three TDs in 10 games as a rookie in 2012, Jeffery had a breakout 2013 season. He ranked sixth in the NFL among receivers with 1,421 yards, the second most in franchise history, and was 10th with 89 receptions, the sixth most ever by a Bears player.
Jeffery recorded the two most prolific receiving games in Bears history in 2013 with 249 yards against the Vikings and 218 yards versus the Saints. The previous single-game record of 214 yards by Harlon Hill had stood since 1954. In the process, Jeffery became one of only eight players in NFL history to produce two 200-yard games in the same season.