Brandon Marshall remains BFFs with longtime teammate Jay Cutler. But the Bears receiver is impressed with the skills of another quarterback who will be playing in the NFL in 2014.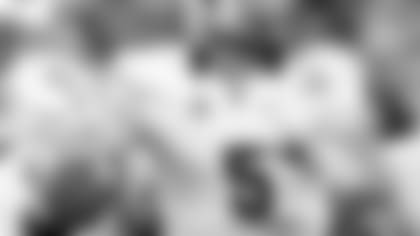 Blake Bortles
Attending his alma mater's Pro Day Wednesday at Central Florida, Marshall lauded the performance of quarterback Blake Bortles, who is expected to be among the top picks in the May 8-10 NFL Draft.
During an appearance on NFL Network, Marshall said that he felt that Bortles deserved to be the first overall selection. The 6-5, 232-pounder threw over 60 passes in a workout that was supervised by Bears quarterback Jordan Palmer, who has been helping Bortles prepare for the draft.
Marshall was impressed with Bortles' arm strength as well as his demeanor during the workout.
"We all know that he has a big arm," Marshall said. "We all know that he can control an offense in the huddle. But when the ball was off just a little bit, he said, 'Hey, that was my fault.' When a receiver made a great catch, he said, 'Hey, good job.' Those things go a long way in the locker room and upstairs too."
Bortles was named ACC Offensive Player of the Year last season after completing 67.8 percent of his passes for 3,581 yards with 25 touchdowns and nine interceptions.
Bortles' draft profile on NFL.com describes him as a "big, athletic, ascending quarterback with enough arm talent and intangibles to develop into a franchise starter." It also states that he "is not yet a finished product and scouts' opinions vary on his ceiling, but elements of Bortles' skill set compare to some of the best in the game today, and his best football is ahead of him."